Have you ever been looking around in a craft store and come across those bulky-looking pens with a cord attached? What are they used for? And why do they seem so expensive, just for a pen?
Maybe you know that they're used in wood-burning, but you might be wondering what is pyrography and what does it actually entail? It's a great hobby to do while sitting around a wood burning fire, a cat nestled by your side, and some free time on your hands. But let's take a closer look!
What Does Pyrography Mean?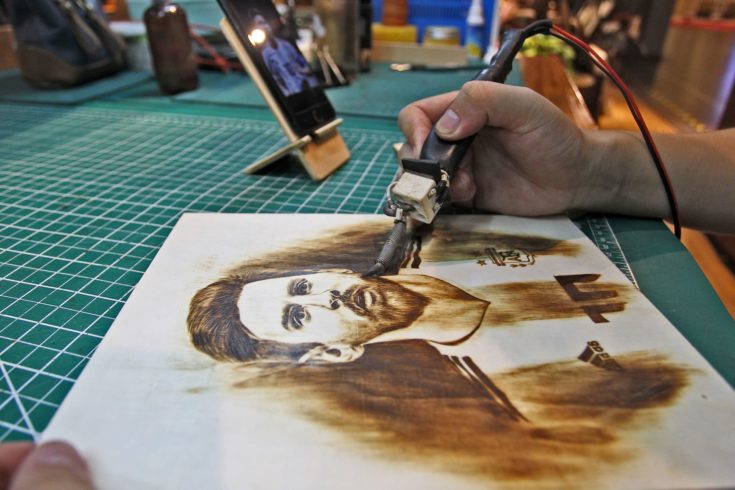 Pyrography – also called pyrogravure, wood-burning, or pokerwork – is an art form that involves decorating a medium, like wood or leather, by using a heated tool.
The word comes from the Greek words pyro and graphos, which literally translates into "fire writing."
By using a variety of pressures, temperatures, tips, and pens, you'll be able to create a dramatic piece of artwork on the material of your choice! Pyrography is a great way to get into wood burning for starters or those who are interested in trying a new hobby.
What materials are used?
Wood is the most common material used in this craft. Most people tend to use softwoods with as little grain as possible to ensure they have a sort of "blank canvas" to start off with.
This video from Pyrocrafters lists off the most popular wood types used in the trade!
You can, however, master the art with heavily-grained or hardwoods. In fact, some people incorporate wood grain as a dramatic element in their design!
And you don't have to stick to wood, either. You can use other materials, such as leather, bark, gourds, antlers, ivory, and even paper!
What tools are used?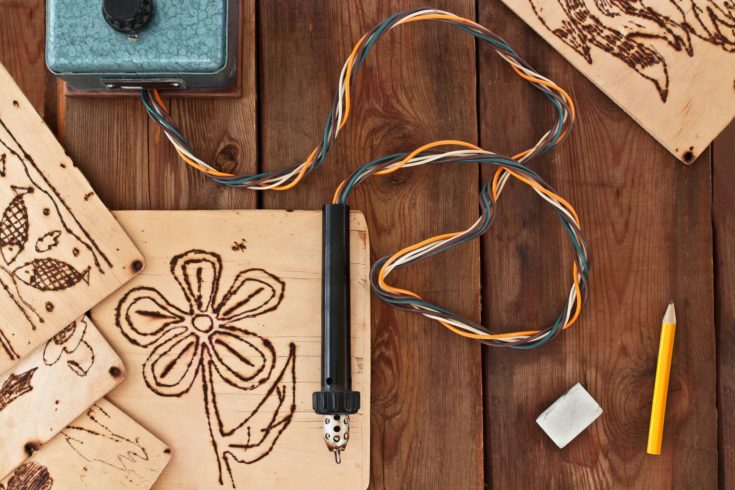 What are the wood burning tips and what they do? The tool most commonly used in this craft closely resembles a soldering iron. It's called a wood-burning pen, and you have a lot of different options to choose from.
For starters, you'll need to choose if you want there to be a temperature control or not. Being able to change the temperature offers you the ability to create more detailed pictures. Both Variable Temperature and Rheostat Controlled pens allow you to do that, while basic pens don't.
The pens also come in either solid tipped or interchangeable tipped. Solid tip pens don't give you the ability to swap out the tips as the interchangeable ones do.
Whichever you choose, you'll definitely want a few different tips so you can diversify your design! Generally, you can make do with three: a shader, a writer, and a skew.
Having the right tools is imperative to creating beautiful designs. You can purchase individual items and customize your collection, or you can buy kits. This one from Colwood is a highly recommended starter kit!
How long has it been around?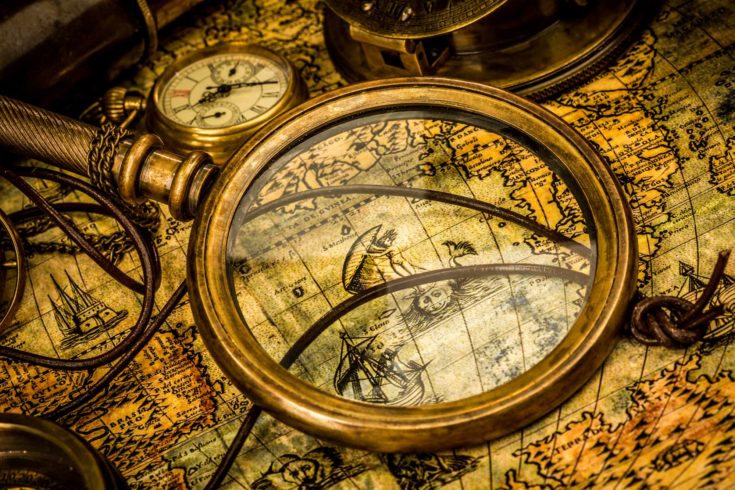 Pyrography has been around for thousands of years. Most experts claim that an ancient form of art was in use as much as 3,000 years ago. Some even claim that it's been used in Egypt and Africa since predated history!
However, the oldest known relic we have today is from a little before 700 A.D. It is a container from Peru with hummingbirds and flowers on it.
Many ancient pieces of this art have been recovered from South America. This is thought to be because many of the designs were burned into gourds since they grow well in the region.
This trade wasn't limited to the southern hemisphere, however. It was also favored in Asian countries, like China. During the Han dynasty, from 206 B.C. to 220 A.D., fire needle embroidery (as they called it) was very popular!
The earliest piece we have from North America is dated to about 1819, which is around the same time the art began gaining popularity in Europe. During the reign of Queen Victoria, which was from 1837 to 1901, pokerwork became an increasingly popular craft in the continent.
How did it evolve?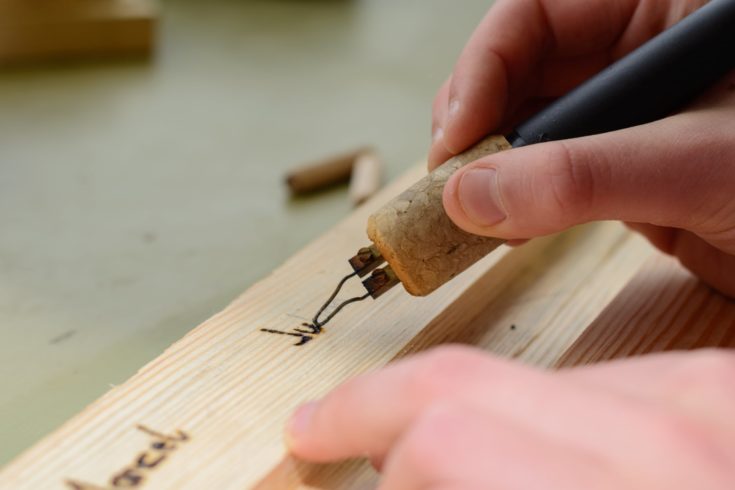 Old-time pokerwork was a long and drawn-out process until about 1890 when the Vulcan Wood Etching Machine was invented. Before that, the poker would have to be heated over a fire to the desired temperature and then used to complete as much as possible as quickly as one could.
Another important invention in the history of pyrography is the electric soldering iron invented by Ernst Sachs in 1921. This innovation gave way to our more modern tools.
Modern machines and electric pens allow the user to control the temperature more accurately, keep the device hot for longer periods of time, and work more consistently. This gives us the stunningly detailed and larger-than-life creations we see today!
Your First Project
Now that you know the history of pyrography, why not get started with a simple project? Aney Carver over at Pyrocrafters allowed us to share a project from her book Drawing With Fire.
Want to know more? Learn more tips and tricks on how to get started.
Conclusion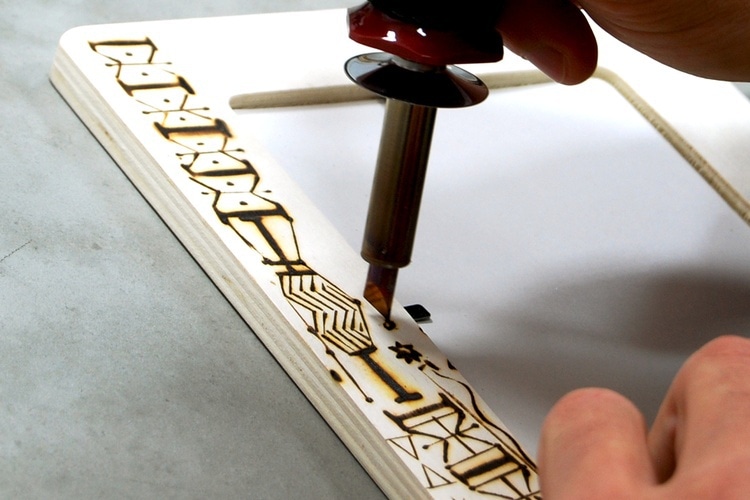 In essence, pyrography is the art of burning designs using a heated tip into a variety of materials, most commonly wood. However, if you're not good with the strong smell of burning, I wouldn't recommend it.
This craft is made easier and more enjoyable by modern, electric pens and machines. Inventions such as the Vulcan Wood Etching Machine and the electric soldering iron have helped shape the trade into what it is today!
Many different instruments are needed to get started with the artform, such as a variety of pens and nibs. There are kits, such as this one from Colwood, that are great for beginners and highly recommended!
Wondering how to maintain your wood burning pen after each use? Learn how to clean them here.
Feel free to comment below if you have any questions and happy fire writing!