Wood burning is something you may have learned how to do in shop class. My grandfather taught me, and it's something I still love to do. You can do it freehand for artistic purposes or create wooden signs for more practical purposes. Use stencils or your imagination.
There are countless products out there, many of which come with a variety of functions, and it's hard to know what to look for, especially for a beginner. For those just getting started, or others who've burned wood in the past but want to jump back in, we've rounded up the best wood burning tools and professional pyrography pens on the market today.
Quick Comparisons of the 5 Best Wood Burning Tools & Pyrography Pens
IMAGE
MODEL
FEATURES

Stage 1 Wood and Leather Pyrography Pen

Great Value

Great for wood or leather

Wide range of tip patterns

View Product

Walnut Hollow Creative Versa Tool

Great For Beginners

Variable Temperature Control

Easy To Manuever

View at Amazon

TRUArt Stage 2 Dual Pen Professional

Highest quality

Precise voltage control

20 tips included

View Product

Good Value

30 watt

7 tips included

View Product
What to Look for in Pyrography Pens & Tools
Quick Heating: You don't want to be sitting around waiting forever for your tool to heat up, especially if you invited some friends over to partake in the activity with you. Get a tool that warms up fast.
Adjustable Tips: Ideally you will have a wood burner that has tips you can change to keep your pursuits interesting. You'll want something that offers both thicker lines as well as fine ones.
Variable Temperature: Though some wood burners that only stay at one heat may get the job done, it's better to be able to control it yourself.
Wood Type: While not exactly a wood burning pen, you should make sure you have the best wood for pyrography to help with control and feel.
---
The Best Wood Burning Tools & Pyrography Pens
Here are the best wood burning tools and pyrography pens for different uses and budgets.
Stage 1 Wood and Leather Pyrography Pen
Walnut Hollow Creative Versa Tool
TRUArt Stage 2 Dual Pen Professional
Wall Lenk L101KB
Walnut Hollow 41992
Creative 5-In-1 Tool Kit
Best Value
TRUArt (Stage 1) Wood and Leather Pyrography Pen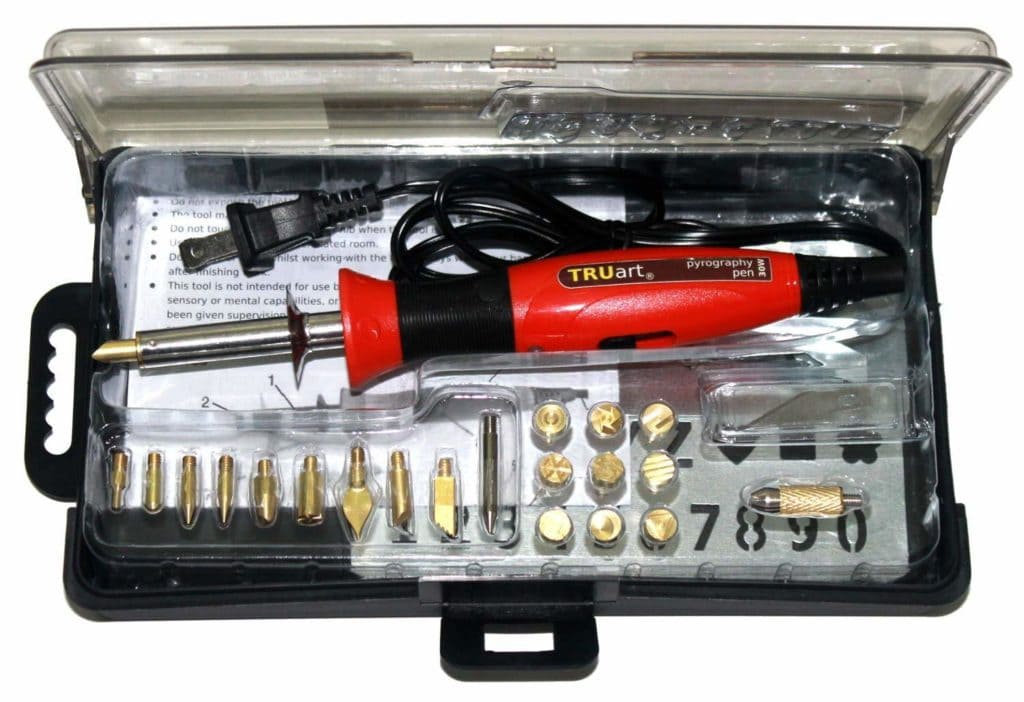 Made specifically for wood and leather, the TRUArt Stage 1 Pyrography Pen provides a wide variety of heads to choose from to control both lettering and design. The stainless steel barrel has a heat resistant handle to allow you a steady grip for precision use. It also comes with a soldering tip for small soldering jobs.
With a full year risk-free satisfaction guarantee, you can use it to see if it works for you. With the ability to create professional-looking jobs, this is a great tool since you can control the heat settings.
Customer Feedback
Very nice tip selection
Very versatile in how it is used
Great instruction, tips, and troubleshooting
Nice grip and very lightweight
Best Budget Pick
Walnut Hollow Creative Versa Tool
This tool is good for beginners or professionals and offers a wide variety of tips. The Walnut Hollow Creative Versa Tool with Versa-Temp Variable Temperature Control can be used for fine lines or wider ones. It doesn't only work for wood, but can also be used for soldering, or for stamping.
It takes a few minutes to heat up, but it's faster than many models and adjusts quickly once you get it going. The tips are durable as well and won't break as long as you're careful.
Customer Feedback
Excellent tool for the money
Love how well the temperature adjusts depending on your needs
Pressure is always great, easy to set and adjust
Details are much easier with this tool than with larger, stiffer ones
Check at Amazon
Check at BLICK
Best For Professionals
TRUArt Stage 2 Dual Pen Professional Woodburning Detailer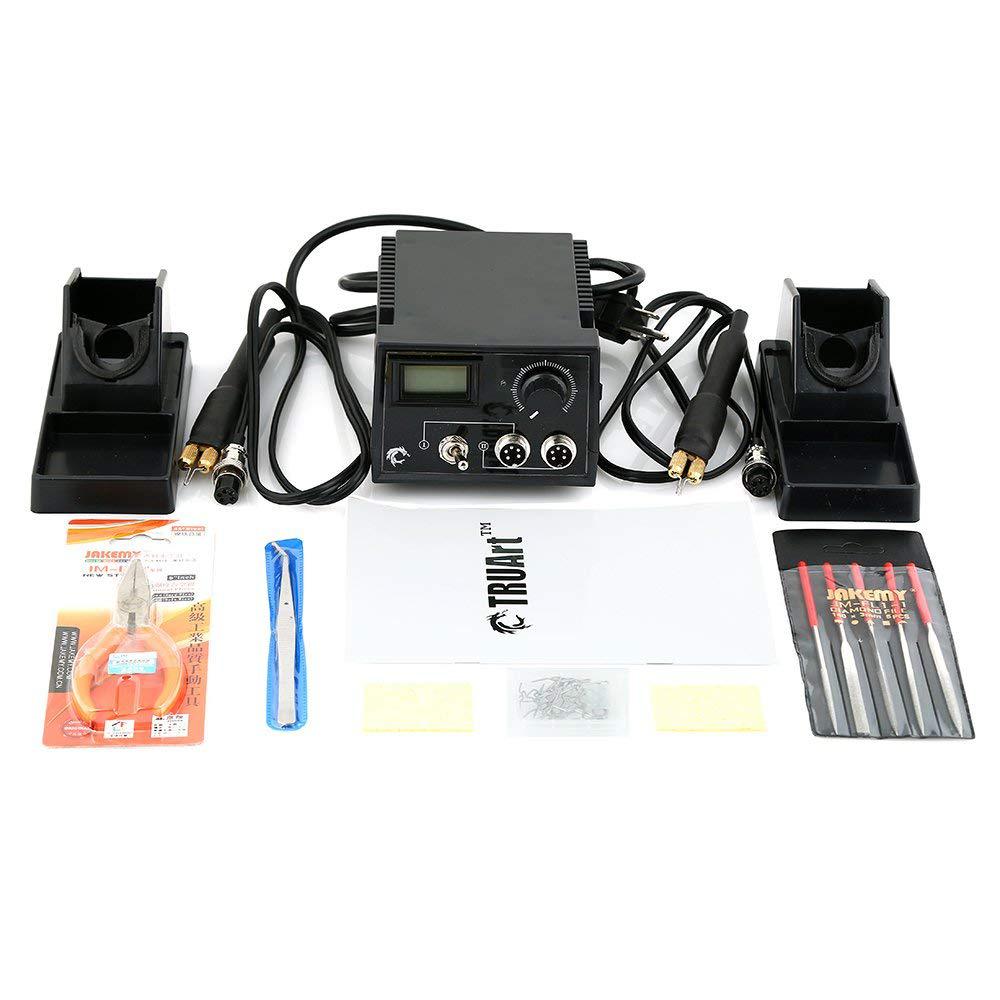 The TRUArt Stage 2 Woodburning Detailer is a Professional pen and comes with digital temperature control to ensure you have complete control over your projects at all times. The 2 small handpieces allow you to switch tips quickly without having to wait for the cooling process, making your job more efficient.
20 different pen tips and blades come with this kit and fit well into a compact storage case. These are capable of use on a variety of different surfaces, including leather.
Customer Feedback
Heats quickly and cools quickly
Very sturdy and easy to grip
Digital controls work wonderful and allow detailed use
Excellent selection of tips
Best Beginner's Choice
Wall Lenk L101KB Woodworker-foots 10-in-1 Tool Kit
Not only does this model heat up quickly, but it also cools down fast so you don't have to worry about dangerous accidents such as forgetting it's hot and touching it, or having your catwalk over the tool and burning himself (this is possible).
The Wall Lenk L101KB Woodworker-foots 10-in-1 Tool Kit is suitable for beginners and pros alike. The pieces are self-explanatory, meaning you can get started with your projects without needing to do a lot of research or consult a professional to teach you.
With this particular model, it's important to wait until the unit has cooled down before you replace tips, or you risk stripping the threads that hold them in place.
Customer Feedback
Ideal for beginners and intermediate wood burners
Stand and toolset is convenient, easy to use
Wonderful wood burning performance, nice control
Lightweight, good grip and easy to maneuver at different angles
Best Intermediate Pick
Walnut Hollow 41992 Creative Woodburner Wire Tip Wood Burning Tool
Walnut Hollow Creative burners allow you to create your own lettering and designs in no time. Choose from 4 different tips for drawing, writing, and shading for your own purposes, all controlled by a temperature dial that ranges from 600 to 1000 degrees Fahrenheit. An instruction booklet provides helpful tips, safety care, and regular maintenance to ensure you have a risk free, safe experience.
This is an excellent beginner's pen that provides you more control than many others. This allows you to provide various shading techniques and the ability to create more.
Customer Feedback
Tips easy to change and cool quickly
Nice size for those who like more of a small pen grip
Great control for entry-level burner
May begin to cool after a few months of heavy use but has very nice precision tips
Check at Amazon
Check at BLICK
Quick and Dirty Guide(s) to Wood Burning
If you're just getting your feet wet and your wood warm, check out the Art of Manliness' beginner's guide to pyrography, how much is a wood burning tool, and other wood burning projects and wood burning gift ideas.