Woodworking items and products are rising in popularity as people turn to more sustainable items for their home. If an item is made with quality and it's the type of item that people look for; then you are guaranteed to sell it. Selling your woodworking items is definitely one way to make extra side money that can be put away for a rainy day. Some people even find that their items are selling at such a rate that they are able to forgo their regular job and concentrate solely on their woodworking business.
With the changes and rise in online stores, selling your handmade items has never been easier as well. While flea markets and craft fairs are still some of the best places to bring your sellable items, having an online store where people from all over the globe are able to view your creations will allow you to reach a larger target audience!
Wondering how to make money woodworking? Here are 69 of the most profitable woodworking projects you can start selling now!
Easy Furniture To Build and Sell
1. Rustic Floating Wooden Shelves
Get on Amazon
If you are the type of person that will always look for storage in your home or you are tired of seeing clutter on your countertops; then you should take a look at floating wooden shelves. These rustic looking pieces offer a range of storage options while matching in with your current room décor with ease and style.
2. Modern End Table
How many times have you been watching television and you are looking for a place to store the remote, your phone, drinks, and other items? Then you want a side end table that has the type of base that slides directly under the couch to securely and snugly fit. Having the type of open base that this style of end table has also prevents you from the dreaded stub on your toe as you walk back to the couch with your eyes fixated on the television instead!
3. Stacked Storage Boxes
Available on Wayfair
These smaller versions of a bookcase are designed to fit securely and snugly on your desktop to store paperwork, important items, and more without overpowering your work surface. Place these stacked storage boxes in the corner of your desk and marvel at the room you now have! A bonus about these storage boxes? You will automatically be more organized.
4. Swirled Wooden Coffee Table
A coffee table that is designed and made from a large round piece of wood is an automatic bestseller without even having to stop and think about it. These large pieces of wood that have been treated and preserved to showcase the natural swirls, grains, and knots that are found in natural wood are gorgeous in a rustic way. Not only do they offer a place for you to place drinks and other items, they are just plain great to admire.
5. Bamboo Docking Station
Check on Etsy
Ever notice that the majority of docking stations for your phone, tablets, and smart devices are made from generic plastic? How about the thought of a natural bamboo docking station instead? A lot more stylish with the same practical uses as the plastic versions, these are too good to pass up! If they are made to fit both iPhone and Android devices? Good luck keeping up with the demand.
6. DIY Wooden Bathroom Vanity
When it comes to the bathroom of a home, do you ever notice that you are always looking for more storage space? If so, you are not alone. That is why these wooden bathroom vanities are such a hot item at the moment. With a sink, two drawers for storage and an open concept bottom; there is nothing about this bathroom vanity that doesn't impress.
7. Shoe Storage Rack
The perfect way to store your shoes that are no longer in season is a wooden shoe rack. You can also use these shoe racks in your porch or entrance so there isn't a clutter of shoes all over the floor. Spice up the shoe rack you plan to sell by adding in higher (and deeper) shelves on the bottom for those long boots.
8. Wooden Pallet Patio Furniture
If you enjoy long nights sitting on the patio with family and friends, especially during the summer months, or you enjoy the solitude while listening to the sounds of nature all around you; then you will love this patio chair that has been constructed using wooden pallets. Once it's built, you simply need to add a cushion and you are sitting in both style and comfort!
9. Spice Rack
Digging through the cupboards, sorting through the drawers, getting more and more confused as to where it is – that is what happens when you don't have a spice rack for all those spices that make your dishes come to life! With this wooden spice rack, all your spices are in one area with the labels clearly pointed forward and the best part? It can be hung on the wall to avoid cluttering up valuable cooking space.
10. Wooden Pallet Headboard
Who doesn't love the look of a wooden bed frame that is complete with a comfortable mattress, piled high with pillows, and a cozy blanket that makes you just want to dive into oblivion? Then check out this wooden headboard that has been made from recycled wooden pallets. With its rustic design and varnished finish; this one is guaranteed to sell out fast!
11. Wooden Pallet Table
Have you ever been sitting outside on your patio and started looking around for somewhere to put your drink, your phone, your book, and whatnot? That is because you didn't have a wooden side table that is stylish and convenient. This wooden table uses wooden pallets for a natural, unfinished look that is in fact – 100% finished and ready to use.
12. Wine Storage Rack
There is something that is timelessly classy about a wooden wine storage rack. Seeing all those gleaming and sparkling bottles, with the labels displayed just so – it's just classy. And also convenient when it comes to storing your bottles of wine. Wine bottles can be bulky and awkward to try and store in a cupboard or pantry but with a wine storage rack? You are storing in style and in comfort.
Kids
13. DIY Children's Growth Chart
Read More Here
There is nothing better than watching your child grow and being able to keep track of that process. Some people purchase expensive growth charts that are just plastic, and others mark on the wall of the home. This idea, however, turns a piece of wooden board into a handy and cheap growth chart! Use brightly colored paint, varnish, and a finish to have a handmade growth chart that looks store-bought!
14. Children's Sandbox
Remember the days of going to the beach as a child or to the playground and rushing to the sand? Why not create a wooden sandbox using boards and bright paint to bring that happiness to another child's life? They are simple to make, easy to construct, and will give a lifetime of memories to the special recipient!
15. Personalized Chalkboard Calendar
View Product Here
If you are the type of person that will rush around the house trying to remember all there is that you need to accomplish in a day, week, or month; then you will definitely love having a personalized chalkboard calendar! These chalkboards borrow inspiration from the old wooden chalkboards that used to be used in school but with an updated twist. You are able to write each month entirely out so you will never forget another date.
16. Wooden Building Blocks
Watching a child build new creations with their building blocks is always something to treasure. You get to watch them learn, grow, and discover how to design something that will stand up and last! While most building blocks are made with plastic of unknown origins; these building blocks are made from pure and safe wood then painted with a non-toxic paint for safe fun for days.
17. Wooden Indoor Swing
Available on Etsy
Can you just imagine the fun you and your child would have with a swing inside the house? Not a big swing set but a wooden and a knotted string swing that is strung from the ceiling and can be placed in the corner of your child's room. Place this swing next to the window to provide a cozy reading nook that also has physical benefits.
18. Wooden Step Stool
Remember how much you enjoyed being able to stand on a little stool at the countertop with your parents and join in on their activities? Why not bring that same joy to your child with their own wooden step stool? Wood is a sturdier material than plastic and will offer a greater sense of safety and security for your little one.
19. Wooden Rainbow Decal
Want to offer your daughter or son the chance to see a rainbow whenever they want too? You can, with these wooden rainbow decals that are made from 100% pure wood and colored with non-toxic paint. These little rainbows can be whatever size you prefer, and they can be used as wall decals or wherever you want to display them!
20. Custom Chess Board with Storage Case
Bring the game of chess to your home with a handmade wooden chess game that comes complete with a storage box. The storage box used in this game also doubles as a stand for which you can play your games. You can either provide chess pieces that were purchased or if the skill level is there, carve your own from different wood species for each side.
21. Giant Crayons
Want to add a touch of whimsy and fairytale elements to your child's playroom but you aren't sure what would be the best addition? How about these giant wooden crayons that are made from whole logs and colored at the tip to showcase all types of colors? These would also be perfect props in their plays and skits that children love to come up with.
22. Crayon Holder
How cute is this wooden crayon holder that is shaped as a piano? With slots designed to hold the base of a crayon in an upright position; the budding artist in your household will definitely appreciate this addition to this desk. And let's be honest, this little piano shaped holder is just neat!
23. Wooden Bear Chair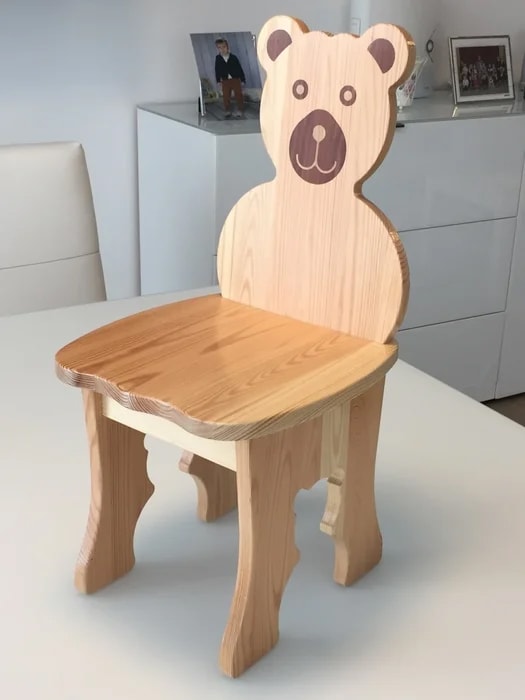 We all know the story of Goldilocks and the Three Bears but how about bringing a part of it to life with this wooden bear chair for a child? Sturdy and fun, you won't have any trouble getting your child to join you on mealtimes at the table anymore. It's also designed to fit directly on the table if they are young and it can be strapped to a regular kitchen chair as they grow older to act as a booster seat.
24. Wooden Puzzles
Wooden puzzles that have various sized pieces that fit into specially designed slots have been and will continue to be bestsellers among parents. Not only are they bright and catch the eyes of a child, they are also excellent tools for developing matching skills, learning colors, and also fine-tuning motor skills and coordination.
25. Wooden Baby Gym
Baby gyms and play pieces have been recommended for ages by doctors and pediatricians alike as they aid in the development of a strong core, coordination skills, and help teach a child to sit up while maintaining an upright position that increases their posture. That is why this wooden baby gym is definitely going to be a hit when it's featured in an online store or craft fair. Be papered to take orders for this one!
26. Paint Easel
Portable, lightweight, and everything that a child needs to increase their artistic skills – this wooden paint easel features a storage tray on the bottom for their important supplies and a holder for their painting pad. Featuring simple designs and construction, this easel is definitely a welcome addition to both indoor and outdoor playtime.
27. Yard Dice
These gigantic yard dice are the best addition to outside play. They are made using large pieces of lumber and burned carefully on the sides to be full dice. If you aren't confident in your wood-burning skills, then paint the dots to show what number your little one has rolled. These dice can be used for games of hopscotch, snakes and ladders, and more.
28. Wooden Ride-On Car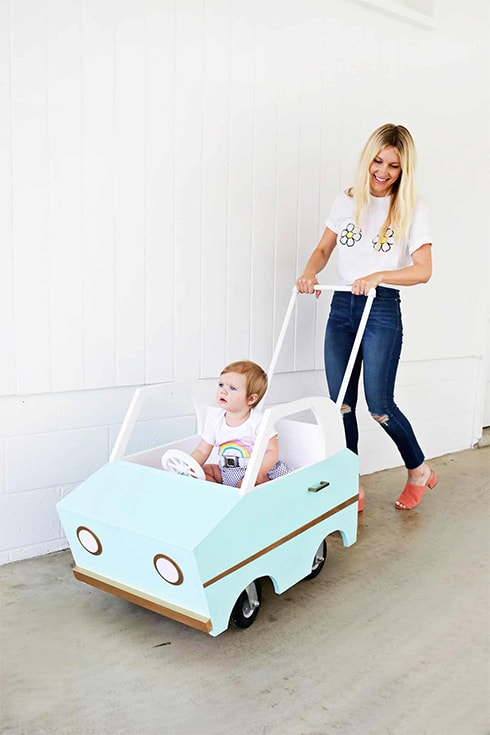 Instead of a red wagon, why not customize your child's ride by getting them a ride-on wooden car? Complete with a steering wheel, headlights, and a comfortable seat; you are able to bring this wooden car with you while running errands and let your child ride in style. They will love the feeling of being in control with their hands on the wheel!
29. Wooden Jigsaw Puzzle
These larger jigsaw puzzles are awesome for teaching your child to match up pieces and fit them where they are supposed to go. With large wooden pieces, you are guaranteed not to lose a single one. The best thing about this design is that it can be painted to a favorite image or scene or left plain to show them how to fit the pieces together correctly.
30. Simple, Elegant Toddler Bed
It shouldn't come as no surprise that a well-made and wooden bed will outlast any bed purchased at your local department store. This simple but elegant, stylish but traditional toddler bed will make your child swoon in joy. With a short climb to go to bed and the feeling of having their first "big kid bed"; there is nothing about this bed they will dislike but everything they will love.
Décor and Household Items
31. Wooden Plaque with Decorative Saying
Check The Price
Wall décor comes in many forms but one of the most stylish forms that never goes out of style would have to be wooden plaques with a customized saying screen-printed on it. These items are excellent wooden gift ideas. The sky's the limit when it comes to these wooden plaques and they can have a range of sizing, with any saying you would like on it.
32. Wooden Slices
Available on Amazon
If you are branching out into woodworking designs and items, then you need to get your supplies somewhere right? These blank wooden slices can be used for a number of projects and seeing as the bark is left intact – add a rustic touch to each one. This kit also has two different styles of rope that can be used to string these wooden slices along and create a cascade of beauty.
33. Wooden Serving Tray
Check The Price Here
There is nothing better than curling up in bed with some good food, drinks, and the remote (or a good book). With this customized serving tray, you are able to bring a table into the bedroom with you without the bulk. They can be customized to your last name, a favorite saying, or whatever you want to have printed on your personal serving tray.
34. Wooden Serving Bowl
Available on Amazon
How many times have you wished for something to hold your fresh fruit that can't go in the fridge? How about something that could hold all the random items you pull out of your pocket upon your arrival home? Wooden bowls are great for this purpose – they are simplistic in design but understated and timeless in looks.
35. Engraved Wooden Clock
Get One Here
What a beautiful anniversary gift! These laser etched wooden clocks have a perfect picture of the happy couple engraved in the center and they are also fully functioning clocks! And if you invest in a laser for your woodworking projects; then you are fully equipped to branch out into other items.
36. Wooden Clothespins
Available on Blick
Ever notice how plastic clothespins don't always stand up to the task? They stretch, they break, and they snap apart at a moment's notice. Wooden clothespins, however, are always ready for whatever task you need them for. Hanging a heavy blanket on the line fresh from the washer? Wooden clothespins. Want to make a photo collage on a decorative string? Wooden clothespins.
37. Wooden Signs
A recessed wooden sign is always classic when it comes to stating something. You can use these for a business, for the front of your home, or to hang at a cabin. They can be a motivational saying, your last name, or a word that invokes a strong emotion into your soul.
38. Recycled Coat Hanger Rack
A coat hanger rack is always well used in the entranceways of a home – so why not update the basic style and use old wooden hangers as the hooks? These wooden hangers will hold a larger number of items and you don't have to be as concerned about the weight. They also help maintain the shape and style of coats longer.
39. Walnut Beer Cradle
Show up to the next get-together or party with your adult beverage of the night in this walnut cradle holder. It protects your glass bottles from clinking together and it also makes a wonderful gift for a lucky someone. You can engrave the sides of your cradle with your last name or your favorite brand – that's the beauty of wood! The options.
40. Vintage Wooden Cutting Board
Vintage never goes out of style and a well-stocked kitchen always includes a cutting board. Merge the two facts together and you will get a vintage wooden cutting board like the one shown here. They add a touch of rustic retro décor to your kitchen while also serving a very practical function while saving your countertops from nicks and scratches.
41. Wooden Christmas Tree
How adorable are these wooden Christmas trees with ornaments hanging from a festive rope? Using varnished and stained wood, you are able to create a basic Christmas tree design with a solid base. String a glittery and festive rope from one side to the other, and voila! A classic Christmas decoration to pass down through the different generations.
42. Wooden Cake Stand
Showcase your creations and masterpieces in the kitchen with this wooden cake stand. It allows you to put your baked goods truly on a pedestal and ups the wow factor of the decoration. A wooden cake stand is also going to last longer than the plastic versions. If your skill level is high, design a cover for this stand and make sure to attach a carrying handle to make it fly out of your workshop.
43. Wooden Coasters
These wooden coasters not only will protect your coffee and end tables from water stains and damage but they also feature a custom face on the storage case! A modern and sleek design with a classic, trusted material for construction – you will not regret making these for your online store. They can be used as gifts and everyone loves to have a set (or two) of coasters in their home!
44. Wooden Doormat
A doormat is a great thing to have in a home as it protects your flooring from water damage, salt during the winter, and mud being tracked everywhere. However, this doormat has something that others do not – a funky, fresh design. Designed to mimic the rising sun over the horizon, it won't matter what color scheme and current décor you have in your entranceway; because this doormat? Is going to match it.
45. Wooden Fall Sign
Celebrate the changing of the seasons with this leaf wooden sign. You can purchase a fake leaf at your local craft store for the design or choose a range of leaves that are found in your area. With the help of a backing mat, the leaf design is carved right through the wood for a beautiful piece of seasonal décor that is great for not only Halloween but the entire fall season.
46. Wooden Mirror Frame
Everyone needs at least one bigger mirror in their home. They are used for everything from checking outfits to working out to maintain your form. But have you ever noticed how a plastic framed mirror tends to warp and distort after a few months of being hung up? These wooden frames will not do that and will outlast their plastic counterparts.
47. Wooden Bird Clock
A fully functioning clock but in the shape of a beautiful, soaring bird; this wooden clock is just great to look at. It makes a great gift for anyone on your list during any occasion. Offset the natural wooden colors with a brightly colored glass face that can be purchased at your local craft store or at a glass specialty store.
48. Wooden Cooking Utensils
Wooden cooking utensils have been around for generations and it's for good reasons. They can be used in hotter mixtures without worrying about melting, they can withstand a larger amount of pressure, and they have handles that are easy to grasp with a natural grip. Any chef would love this set of basic cooking utensils.
Tip: treat the natural wood with a non-toxic finish to avoid food and sauce stains.
49. Picture Frame
There is something just understated and elegant about black and white photographs displayed in a natural wooden frame. They match in with any current décor, they never go out of style, and you can make them fit a large number of pictures. If you add in the attachments for hanging this picture frame or for standing them upright; you will have more satisfied customers.
50. Wooden Tissue Box
Tissues boxes that are made from paper are ideal for recycling but not so ideal when it comes to the condensation that builds up in a bathroom thanks to the hot shower going. This condensation can make the tissue box soggy and it disintegrates right on your vanity. This wooden tissue box will prevent that from happening and also boost up your bathroom's décor.
51. Beaded Chandelier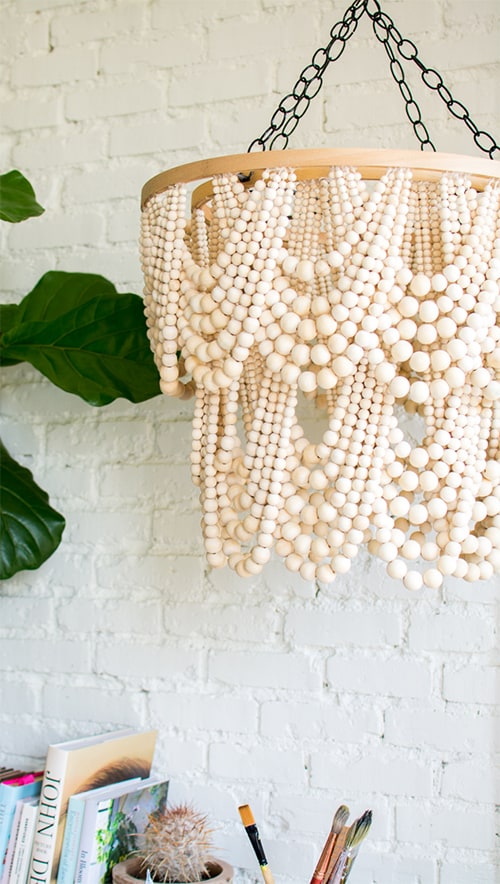 Have you envision owning a chandelier but can't justify the cost? Then why not purchase a wooden one featuring intricate beadwork that will cast beautiful shadows on your walls? This wooden and beaded chandelier has been designed to showcase the best features of a light and will bring a timeless sense of class to your dining or living room.
52. Valentine's Day Gift
Bring some romance into the day for love – Valentine's Day! This wooden glass holder features two heart shaped glasses that are hung suspended from a wooden dowel rod. Its wooden design increases its longevity and meant for two but if you are the only one enjoying it? Well more wine for you!
53. Wooden Letters
A set of wooden letters can be used in two ways – as a learning tool for children or as décor in your home. Children will benefit from being able to hold the letter in their hand that they are learning as they will be able to feel the shapes they need to make. Spell out the names of your family members using these, attach them to a sign to showcase momentous occasions, and more!
54. Wooden Candelabra
In almost every fine dining restaurant you visit, the centerpiece is always candles of some sort. A wooden candelabra is classy, elegant, and easy to make on your own for your store. Design it so that the candles will all be at different heights and you can even treat the wood with a fire retardant to prevent any hazards!
Personal
55. Wooden Earrings
Get One Here
Looking to live a more sustainable lifestyle, including the clothes and accessories you wear? Then check out wooden earrings that feature natural wood, non-toxic metal, and stains to change the color. With different designs and shapes, you could wear a different pair of earrings each day of the week if you chose!
56. Wooden Rings
Find on Etsy
Keeping in line with the sustainable wooden earrings, why not other jewelry as well? These wooden rings are painted to mimic the ocean waves and they would be the perfect finishing touch to that gorgeous outfit you are wearing! Treated with stain and smoothed to a satiny finish, these rings will be on everyone's hands.
57. Wooden Cedar Chest
Wooden chests are ideal for storing away larger, bulkier items. Think sweaters, blankets, and winter coats. The best part of a wooden storage chest made from a long-lasting wood species such as cedar is that it will protect the inner contents while looking like it was meant to be part of your décor. They are especially sweet when placed at the foot of the bed.
58. Wooden Jewelry Boxes
You'll need somewhere to store all that stunning wooden jewelry, won't you? Wooden jewelry boxes have been around for years and they have always been a favorite present to the lucky person that receives them. It protects your jewelry and a solid wooden box that has been treated looks at home on your dresser. It's a good idea, however, to make yours with different sized slots for different types of jewelry.
59. Wooden Bracelets
If you are going to wear wooden earrings and rings, why not a wooden bracelet as well? These hand painted and handmade wooden bracelets are guaranteed to be a hit amongst all age groups. They can be stacked for a funky look, dress up a casual outfit, or make a dressy outfit more casual – it all depends on how you style your bracelet!
60. Personalized Jenga Blocks
Everyone loves the game of Jenga but have you ever played with a set of personalized Jenga blocks before? These are personalized with the couple's name that owns them, but you could personalize them with anything you wanted to! Put sayings or dares on each one and if that person knocks them over? They have to complete it!
61. Wooden Soap Dish
A soap dish is a great invention. It catches the water that drains from the soap, it keeps the soap off the countertops, and it makes it more accessible when needed. However, a wooden soap dish adds a touch of rustic country decor to the kitchen or bathroom and would be right at home in the cottage or the main residence.
62. Wooden Sunglasses
Protect your eyes with a pair of classic sunglasses that featured a stained wooden frame. These sunglasses are amazing! They look cool, they look vintage, they look sleek, but they also protect your eyes from the sun's harmful rays. You can definitely beat the heat with these beauties on your face.
63. Wooden Comb and Brush Set
Get your child with their own hairbrush and comb set in a classic natural wood base. These brushes and combs will last them throughout their life and well into adulthood. They are beautifully designed and will definitely get those wild tangles out of their hair when they finally come inside from playing.
Pets
64. Wooden Dog Bed
If you are going to be changing to wooden objects in your home, what about your treasured family pets? They deserve a new wooden dog bed as well! These four-legged fur balls are our children and a wooden dog bed is not only practical but also stylish in the home. You can even raise them off the floor enough to let your pets feel closer to you.
65. Wooden Stand for Dog Bowls
If you have an older dog, then you might have noticed that they are having trouble leaning down to their bowl while eating their meals or drinking water. This is why a wooden stand that raises their dog bowls almost too standing height is a wonderful idea. These stands are designed to cradle the bowl and prevent spillage from happening while allowing your furry friend to eat and drink in comfort.
66. Fun Dog House
You can offer a super fun dog house to potential buyer's with this quirky style wooden dog house. To the tune of Snoopy's house from Peanuts, this model will surely sell and is really easy to make! Check out some DIY dog ideas here.
Garden/Outdoors
67. Bamboo Plant Labels
Available on Etsy
Do you find that you are the type of person that tends to forget what you planted where? How about you aren't sure what the directions for taking care of your different potted flowers are? Then you want to check out these wooden plant labels that are cute and practical. Use a permanent marker to write your favorite gardening saying on one side and on the other, all the information you need to keep your various plants healthy and alive.
68. Cedar Number Planter
Want to add a touch of elegance and class to the front of your home? Then you can with this cedar wood number sign that features an attached planter on the base. It automatically makes the house more inviting and warmer to visit while suiting all current siding colors. If you chose to make this one in your woodshop; then offer to place the house numbers on the board upon completion.
69. Wooden Planter Boxes
Reuse older wooden boxes and transform them into planter boxes that will look right at home in your garden. These wooden boxes are ideal for creating tinier versions of raised garden beds and they don't cost a fortune to create. Just ensure to strip and clean the wooden box of any harmful chemicals or materials before planting our flowers or vegetables in it.
Conclusion
The list of woodworking projects that sell is definitely a longer list than most and that is because people will purchase quality handmade wooden items. Look into an online ecommerce store, craft fairs in your area, and more to discover the large customer base that is waiting for your creations!
If you like this list, please let us know in the comments below and share with your fellow wood worker friends! Do you have a woodworking project that people rush to place orders for? Let us know that in the comments below as well. We want to hear from you!