Whether you're making a few awesome Halloween costumes for the family or expanding your own wardrobe with some handmade pieces, having a proper, sturdy dress form is extremely important. Just like the actual garments that are being produced, having a dress form that fits your needs perfectly is of the utmost importance.
Adjustable dress forms, in particular, can be imperative to any designers looking to add a little versatility to their look. When it comes to creating clothes that fit a specific person, whether that person is you or someone close to you, it is important to have a dress form that matches them as best as possible, and while purchasing a custom fitted dress form is always an option, it definitely doesn't leave much room for physical growth.
Adjustable dress forms allow for the constant adjustment (within reason, of course) of a few inches here and there whenever needed, ensuring that your measurements are always accurate, no matter how much the subject changes.
The prospect of buying a dress form can seem a bit daunting, with countless brands offering countless different options it can be hard for both beginners and pros to know where to start, but we've totally got your back! With a handy informational guide followed by some of our favorite popular dress forms we'll have you sewing up a storm in no time!
What to Look for in Adjustable Dress Forms
Sturdiness: This pretty much goes without saying, but it's extremely important that any dress form you choose to purchase is sturdy and tough enough to last. Some dress forms have a tendency to shake and wobble when they are handled too much, making it almost impossible to use them accurately. Remember to choose a dress form that is well known for its sturdiness to avoid any sewing mishaps.
Display Form vs. Sewing Form: It is extremely easy to get the two mixed up. Dress forms meant for display and dress forms meant for sewing have a tendency to look eerily similar, especially when buying online, and while they may be close visually they are almost completely different when it comes to their uses. Display forms, while often mistakenly bought by amateur seamstresses, are meant to be used as more sophisticated mannequins in boutiques and store-fronts, they are almost never fully pinnable and the provided foot pedal is pretty much just for decoration. On the other hand, sewing forms are heavy duty, able to withstand almost constant adjustment and the onslaught of a plethora of sewing needles. When making your dress form purchase, it is imperative that you choose one that is a specified sewing form to avoid frustration.
Versatility: Versatility in a dress from comes hand-in-hand with adjustability. It is important to purchase a dress form that can be used to make all types of garments (pants, dresses, shirts, etc.) over a long period of time. While adjustable dress forms can't necessarily adjust to all sizes they do typically adjust to fit a wide array of them. Ensuring that your dress form is versatile ensures that you will be able to create amazing things for a long time to come.
---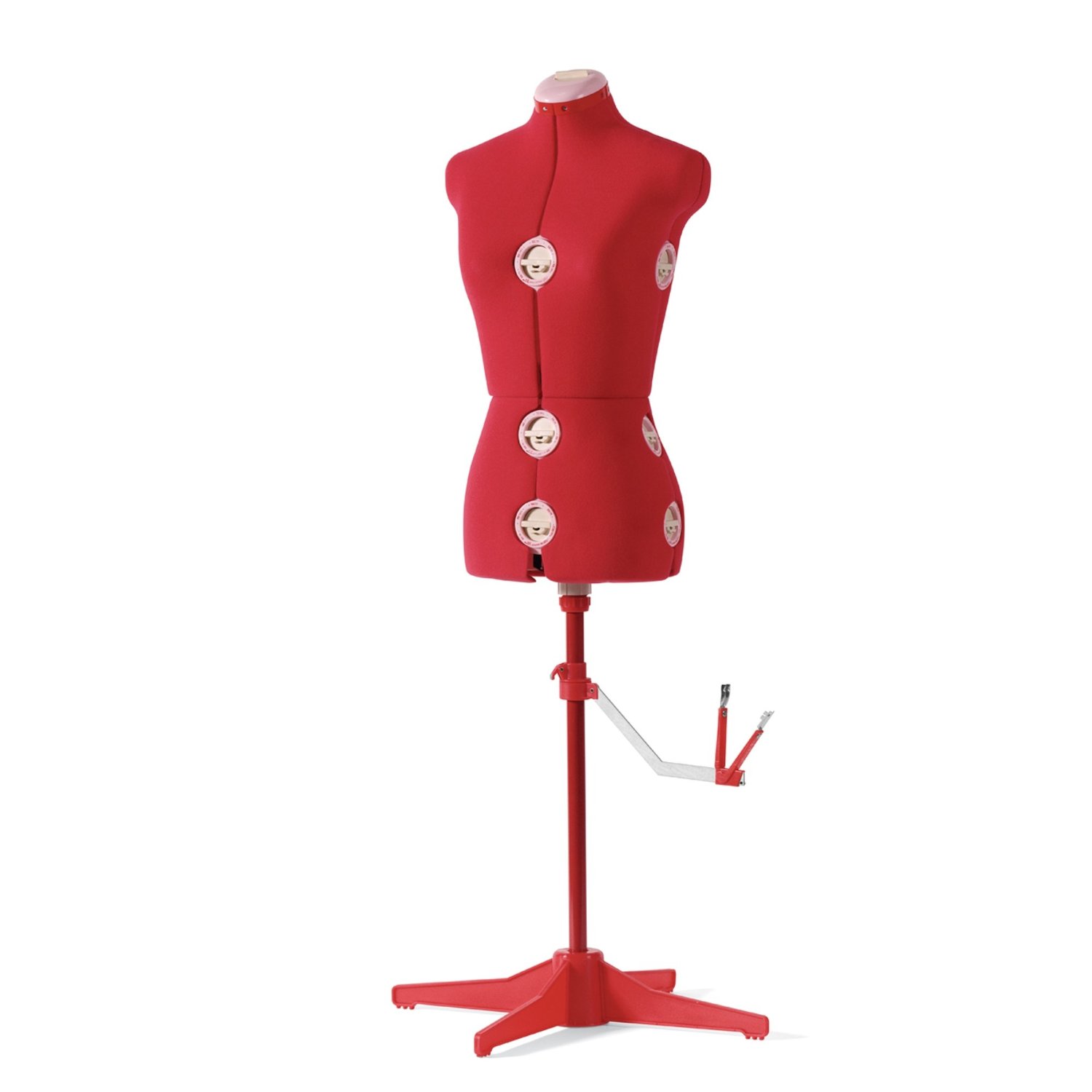 Bright red in color with fully foamed-back fabric, the Singer 12-Dial Fabric-Backed Large Adjustable Dress Form is a dream come true for any seamstress.
On top of the 12 different dial adjustments (covering bust, hips, and waist) this dress from includes an easily accessible foot pedal that allows users to easily manipulate the form to their perfect working height.
While this adjustable dress form technically doubles as both a sewing and display form, its many handy features making using it for garment making a walk in the park.
At times, this dress form has a tendency to get a tiny bit wobbly and the overall design isn't necessarily as sleek as other models, but the value and high quality that comes along with the Singer brand makes this purchase more than worth it.
Customer Reviews
"It far exceeds my expectations."
"I don't have any complaints about this unit."
"I would recommend it to anyone who sews clothing."
"Exactly what I was looking for."
Check Latest Amazon Price
---
The superbly clever name and even better price point are more than enough to make even the most advanced garment maker perk up a bit.
The Dritz Sew You Adjustable Dress Form combines an effortlessly professional design with tons of amazing, handy features.
The 9 carefully places adjustment wheels (located at the bust, waist, and hips) allow for tons of carefully made adjustments, making it easier to get precise measurements.
Along with a super useful pin cushion neck, the foam-backed nylon covering makes pinning and marking this dress form exceedingly simple.
The almost perfect blend of usefulness and professionalism present in this model make it a value too good to pass up.
Customer Reviews
"Great design, easy to use, sturdy, and flexible."
"This dress form is exactly what I wanted."
"Highly recommended for anyone who's had their heart set on purchasing a dress form."
"I love having it to work with."
Check Latest Amazon Price
---
Slightly less flashy and much more utilitarian, the Yamata Professional Adjustable Dress Form is the perfect tool for no-nonsense workers.
A simple soft gray foam-backed covering makes both pinning and marking the form easier than ever and the 12 adjustment stations (controlled by knobs on the back of the dress form) ensure easy customization at all times.
In addition to these high-quality universal features, this dress form also contains a stylish base that prevents accidental tip overs.
Though this adjustable dress form is a bit too light and may serve as a better tool for amateur seamstresses, the relatively affordable price and overall quality of the product are nothing to balk at.
Customer Reviews
"Makes sewing a LOT easier."
"I love this item."
"I couldn't possibly give it less than five stars."
Check Latest Amazon Price
---
This best selling Singer DF25Q Adjustable Dress Form brings a whole new level of innovation to the world of dress forms.
A heavy metal base supports the sturdy foam-backed form, containing 13 different adjustments that cover a wide array of precise measurements and the handy height adjustment knob works perfectly customize to the users height.
The unbelievably affordable price of this dress form coupled with amazing results show that the Singer brand is always up to snuff.
Customer Reviews
"I think this is an excellent value for the money and does exactly what it is advertised for."
"Absolutely perfect."
"This form was extremely easy to put together and adjust to my size."
"This works perfect for me."
Check Latest Amazon Price
---
Do you use an adjustable dress form that you recommend but we didn't review?
Let us know! You can drop us a line here, or check out the other arts and crafts reviews we've put up recently: