There are many reasons why you might be interested in purchasing a lightbox. For some artists, they are indispensable. A huge part of the tattooists work, they are needed to trace designs and work out ideas.
For cartoonists and animators they are key and for stencil artists they are a great way to see their lines clearly.
Lightboxes have come a long way over the years and they now come in a variety of sizes, weights and shapes. From small portable USB charged devices you can take on the go, to larger desk shaped models there are many decisions that you must make when deciding which lightbox is best for your tracing needs.
So I've decided to do the legwork for you, digging through the various brand names and models to come up with my list of the top 5 best lightboxes for all your tracing needs.
What to Look for in a Lightbox for Tracing
Lightweight and Portable: I don't mind a desktop lightbox but it should be easy to move around and not super heavy. Even better are smaller portable models I can use on the desk or take it with me on the go to use while I am out.  Regardless of the style it should be easy to store when I'm not using it. I would like to see some lightboxes that can totally replace the old school huge boxes of the past.
Even, Strong Illumination: Obviously if I'm looking for a lightbox, I want it to have good light. It should give a steady, strong light and it would be great to have the option of multiple levels of light or a dimmer. There should be no pockets or shadows that are less lit than others.
Durability: I would like a long life for my investment, and something that can stand being moved around and hold up to my life on the go. It shouldn't feel cheap, even if it is lightweight. If it has a warranty, even better.
Value: The product should offer good value for the money. I want to feel like I made a good purchase and my money was well spent. I don't mind paying more for a lightbox with more features, but it better justify the higher price.
---
Huion L4S Tracing LED Light Pad
Well this is a handy, dandy little device! The Huion L4S Tracing LED Light Pad is super thin at only 5.1mm and comes in at just over half a kilo in weight, making it super portable.
It can be used for a wide variety of tracing projects and crafts and has special eye protection technology than prevents you from getting sore and tired eyes after long hours of work.
The other cool thing about this model is that it has an adjustable light that can be gradually dimmed or made stronger by the touch of a button on the side.
It even remembers what level you were at the next time you turn it on.
It has a durable acrylic surface that feels and looks like glass and is very clear. It can shine through a variety of paper, even working with some types of cardstock.
It is USB powered, making it fully cordless and you can charge it either with your computer or a wall outlet. A fantastic choice for a portable lightbox.  You can't go wrong with this one.
Customer Feedback
Very nice box for how small it is
Ideal for tracing or using the underlying guidelines
Great price, excellent quality for what you pay
Modern and efficient lightbox
Check Latest Amazon Price
---
AGPtek 9.45 x 14.17 Inch LED Artcraft Tracing Light Pad
Here is another nice option if you are looking for a portable lightbox. The AGPtek 9.45 x 14.17 Inch LED Artcraft Tracing Light Pad is a bit bigger than the previous model above, but really not much heavier.
It is also super thin at only 5.5mm making it a great contender if you are looking for something you can take out with you.
You only need a power source, as it has the USB cable power that you can either use with your computer, power bank or wall charger.
In this model, the dimmer comes in three adjustable levels and the unit has powerful LED lighting so it's not going to get hot and you get a steady even display of light with no pockets of dimness.
You can use this lightbox for a variety of projects including tattooing, scrapbooking, tracing and drawing and it won't let you down. And a tough acrylic screen and easy touch buttons make it durable and easy for children to use.
Say goodbye to your big bulky boxes that take up a tonne of space on your desk and move to this small pad that you can even use on your lap. You won't miss your old set up!
Customer Feedback
Nice slim profile saves space but still gives you enough room to work
Lightweight option that's great for travel or small studio spaces
Works extremely well, easy to use and get the hang of
Check Latest Amazon Price
---
Artograph LightTracer Light Box
Bringing you a different style of lightbox now, this one hearkens back to the desktop style box shape, rather than the LED pad but is so much more compact and modern.
The Artograph LightTracer Light Box has a lovely slanted work surface but is only 10″ x 12" so you're getting something you can work with on a desk but is lightweight and small enough to be portable.
Amazing for anything from applique to photography, this model has a strong light than can handle almost any type of paper, even cardstock and it makes tracing really enjoyable.
Because of its size, it fits a piece of 8″ x 11" paper perfectly but also can be used with smaller pieces without slipping or moving around.
Made in the USA, you're getting a high quality product here that is going to last you a long time and has great value for the price.
It can handle a beating without breaking and even comes in a nice box with a handle, making for easy storage when you aren't using it.
If you prefer to stick with a desktop type model, rather than the pad type, this is the lightbox for you.
Even, steady light with no hotspots and a solid choice.
Customer Feedback
Ready to use right out of the box – no assembly required
Small enough for tight workplaces, but gives you enough surface area to feel comfortable
Great for taking to school and work for various projects
Light is bright without being blinding, great for tracing just about anything
Bulb lasts a very long time, great quality and construction
Check Latest Amazon Price
---
QualityBazaar 23.5 Inch Tattoo Tracing Light Pad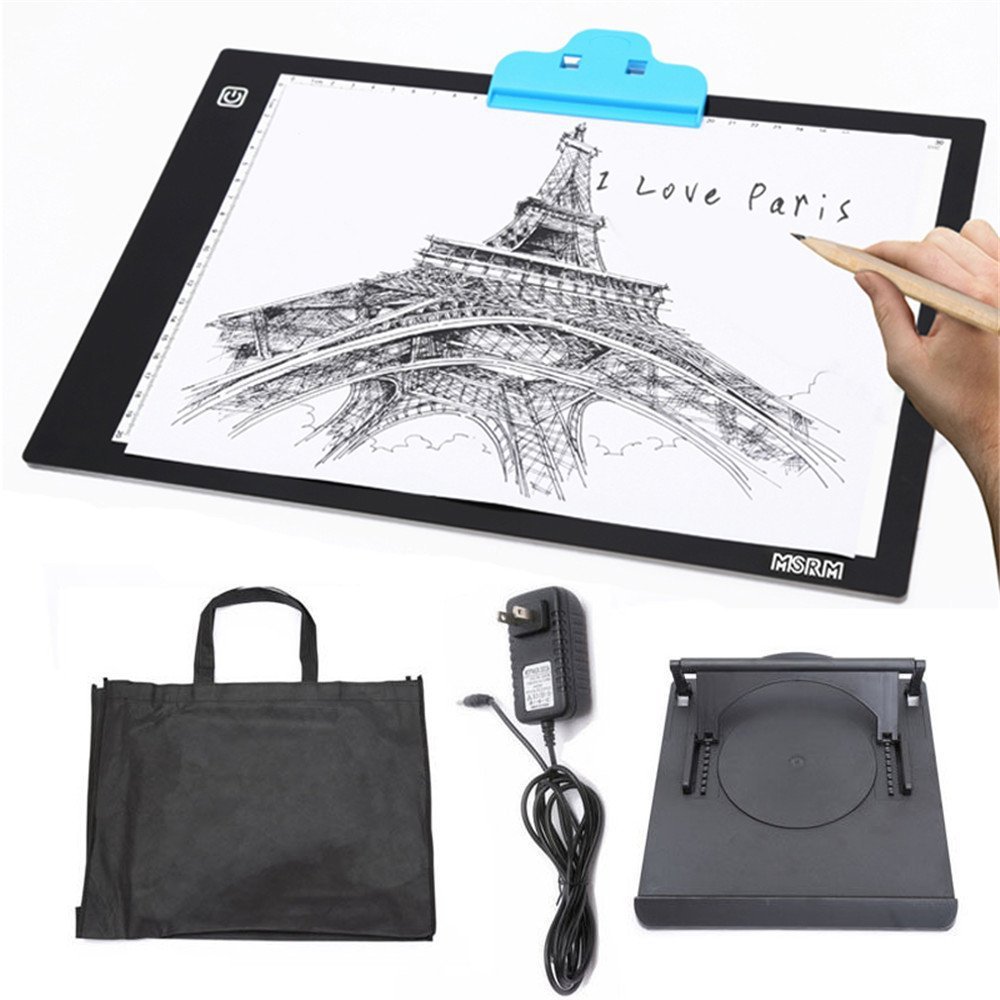 If you're looking for something a little bit bigger than the models above, but something still lightweight and portable, look no further. The QualityBazaar 23.5 Inch Tattoo Tracing Light Pad offers a 17″ x 13" work surface and all the benefits of the previous models, but comes with a few nice extras as well.
This model comes with a recycled carrying bag as well as a great rotating pad that allows you to turn the pad easily.
Three levels of brightness and great value for the money, it can easily accommodate an 11″ x 14" piece of paper while not taking up a lot of space on your desk.
LED lighting ensures the unit doesn't give off a lot of heat and you'll find yourself getting rid of your old traditional florescent box before long when you find out that this does all the same work without the size, weight and heat.
Consistent luminosity and if you have it connected to a power bank you can take it anywhere without needing a wall outlet or computer.
Big enough for most jobs but small enough to still be completely portable.
Customer Feedback
Great profile, easy to use and gives off little heat
Sits well on desk, easy to maneuver hands and arms around to get the right angles
Love the multiple levels of brightness for different paper thicknesses
Corners and edges are just as bright as center, which helps for consistency
Check Latest Amazon Price
---
US ART SUPPLY® Lightmaster® Jumbo 32.5″ Diagonal Extra Large Lightbox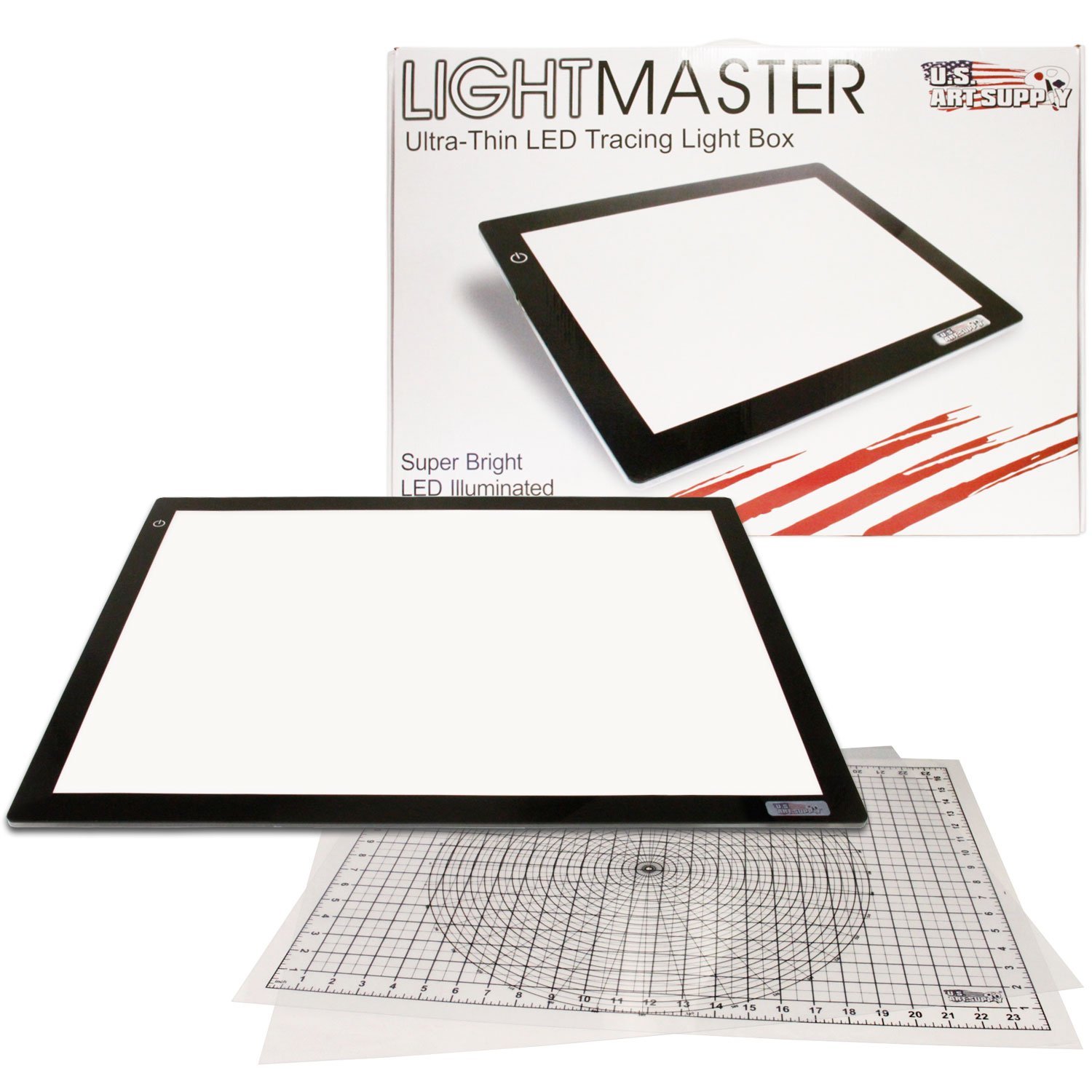 And now something for those of you who need a lightbox for bigger jobs. The US ART SUPPLY® Lightmaster® Jumbo 32.5″ Diagonal Extra Large Lightbox Board is really something special as it gives the option of a large work surface while still being low profile and lightweight.
Perfect for all styles of tracing, this lightbox comes highly recommended by quilters, animators, tattoo artists and scrapbookers, among others. Further to that, it is backed by a totally unconditional 1 year full replacement warranty so you can be sure that while you are paying more than the other models, you are getting something the company really stands behind.
They even throw in a few extras, by providing one free measuring overlay grid and one circle template, which may come in handy depending on what you are using the lightbox for.
The company is confident in saying that you will get at least 50,000 hours out of these high quality LED lamps.
Dimmable touch button technology and low profile thickness at 3/8" allow you to easily use this pad flat on your desktop while giving you the feel of naturally drawing on a table surface.
Big enough for a double page spread but perfect for small tracing jobs as well, this unit is super versatile and a great investment for anyone who wants to ditch their old school clunker!
Customer Feedback
Great for drawing and tracing on larger pieces of paper
Thin, low profile makes it easy to keep your hand and arm in best position
Adjusting the brightness makes it easier to trace the right lines at the right times
Easy touch, doesn't take much to get this box to work perfectly
Check Latest Amazon Price
---
Do you recommend a tracing lightbox that we didn't cover?
Let us know! If you're looking for additional reviews, check out the best copic marker sets, the best brush pens for lettering, the best liquid chalk markers or the best calligraphy pens for beginning writers.