Doodling! One of the few art forms that doesn't instantly stress an artist out. It can be really relaxing to chill out and just make little patterns or symbols on your drawing pad with a nice cup of tea. Doodling on the side of your notebook while listening can help you focus on a lecture as well.
What's not to love about doodling? Crappy pens, that's what. Suddenly your soothing artistic "me" time is interrupted by a jammed ball in your ballpoint pen or by the sudden realization that your pen leaked all over your hands.
Two of the worst things ever. Well, maybe not the worst, but still pretty awful. Especially if you've spent a lot of money on nice art pens that have let you down.
But, there's good news. We've compiled a list of the 5 best pens for doodling or drawing to help you get the art supplies that are the best investment.
Whether you just like to doodle or are looking for a good set of drawing, inking, and lining pens, everything on this list is worth a shot at trying. Scroll down to see what's up.
What to Look for in Your Doodling Pens
Ink: The ideal doodling pen will be frustration-free. That means that the best pen will have ink that doesn't smudge, bleed, explode, ignore your calls, or leave the stove on. (Thankfully, pens don't have the thumbs to do those last two.) You're going to want a pen with ink that is permanent and waterproof as well.
Point/Feed: Again, the ideal doodling or drawing pen will be frustration-free. A ballpoint pen with a ball that constantly jams is pretty darn frustrating. A non-ballpoint pen that just gushes out ink when opened is equally as frustrating. If you have the chance, test out pens before you buy them at your local art store. Run it along the back of your hand or on a piece of paper to see if it's even worth trying out.
Barrel: Doodling is a relaxing, stress-free kind of hobby, isn't? It would only make sense that your doodling pen would be comfortable to hold, right? Pen barrels that are thick and sturdy are usually the easiest to hold. Some doodling pens come with a soft barrel cover for added comfort. You can usually buy these soft rubber grip covers at the dollar store or online as well.
---
Best Overall Pens for Doodling
Sakura is a Japanese company widely known for producing some of the best artist pens in the world, as well as many excellent stationery items. Sakura's 8-Piece Pigma Micron, Graphic & Brush Pen Set is at the top of our list of best doodling pens.
Waterproof, fade and smudge resistant, fast-drying, and bleed-free are just a few of the awesome qualities these pens have. They are chemical resistant as well and would work great for mixed media work.
While these pens are fantastic for serious artwork, we're on the subject of doodling. You really can't go wrong with these. They come in eight size: 0.2-mm, 0.25-mm, 0.3-mm, 0.35-mm, 0.45-mm, 0.5-mm, brush, and graphic. The brush pen is great for creating deep shadows.
The ink in these felt tip pens lasts (almost) forever and aren't susceptible to drying out quickly or getting gross. They're also very inexpensive! I strongly suggest trying these out.
Customer Reviews
Extremely good quality and writing performance
Use them regularly and always perform well, even on demanding projects
Highly effective pens, great for beginners or expert drawers
Very versatile pens for doodling and drawing
Beautiful for detailed drawings like mandalas
Great investment for any art tool collection
Check Latest Amazon Price
---
Best Pens for Doodling Comics and Scenes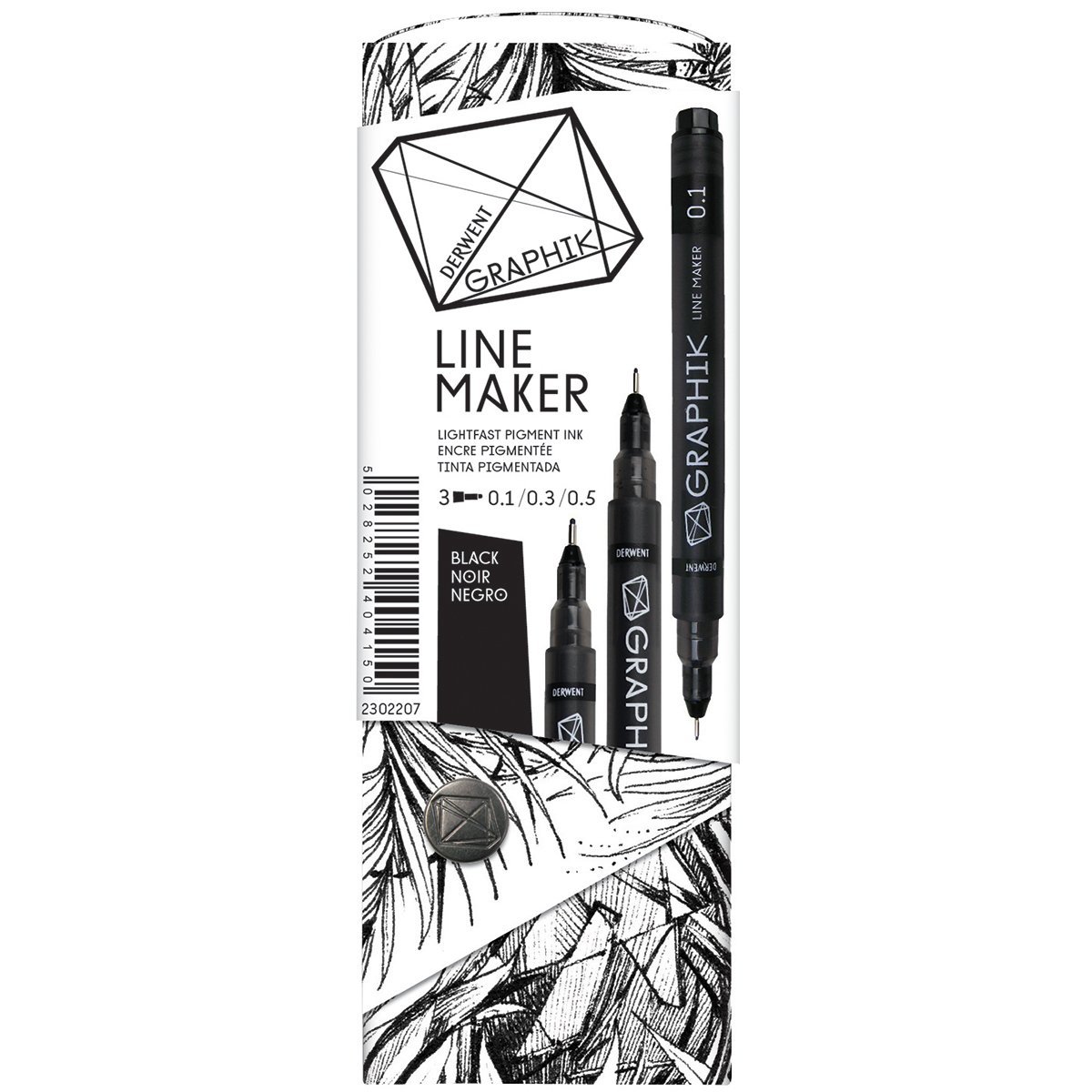 One of my favorite warmup exercises to really get the creative juices flowing before working on a serious assignment is to doodle little comics. Whether it's just a scene of something funny that happened during the day or a humorous political statement, doodling comics can be really fun and relaxing.
The Derwent Graphik Line Maker Drawing Pens are a great set of pens to use for achieving detailed comics for your portfolio or for just having a little bit of fun.
This set comes in sizes 0.05mm, 0.1mm, 0.2mm, 0.3mm, 0.5mm and 0.8mm. The ink is made of water based pigment and the tips are made of felt for smooth, smudge-free application.
This line of pens also comes in many different colors other than the featured black of this set, so you can really get interesting with the colorful lines and shading you can create if you buy additional sets or individual pens.
Customer Reviews
Amazing pens with great pigmentation
Work well on canvas, thick paper and anything else that won't bleed easily
Don't require much time to get used to
Able to use with other markers and pens to combine inks well
Very smooth to draw lines with
Check Latest Amazon Price
---
Best Brush Pens for Doodling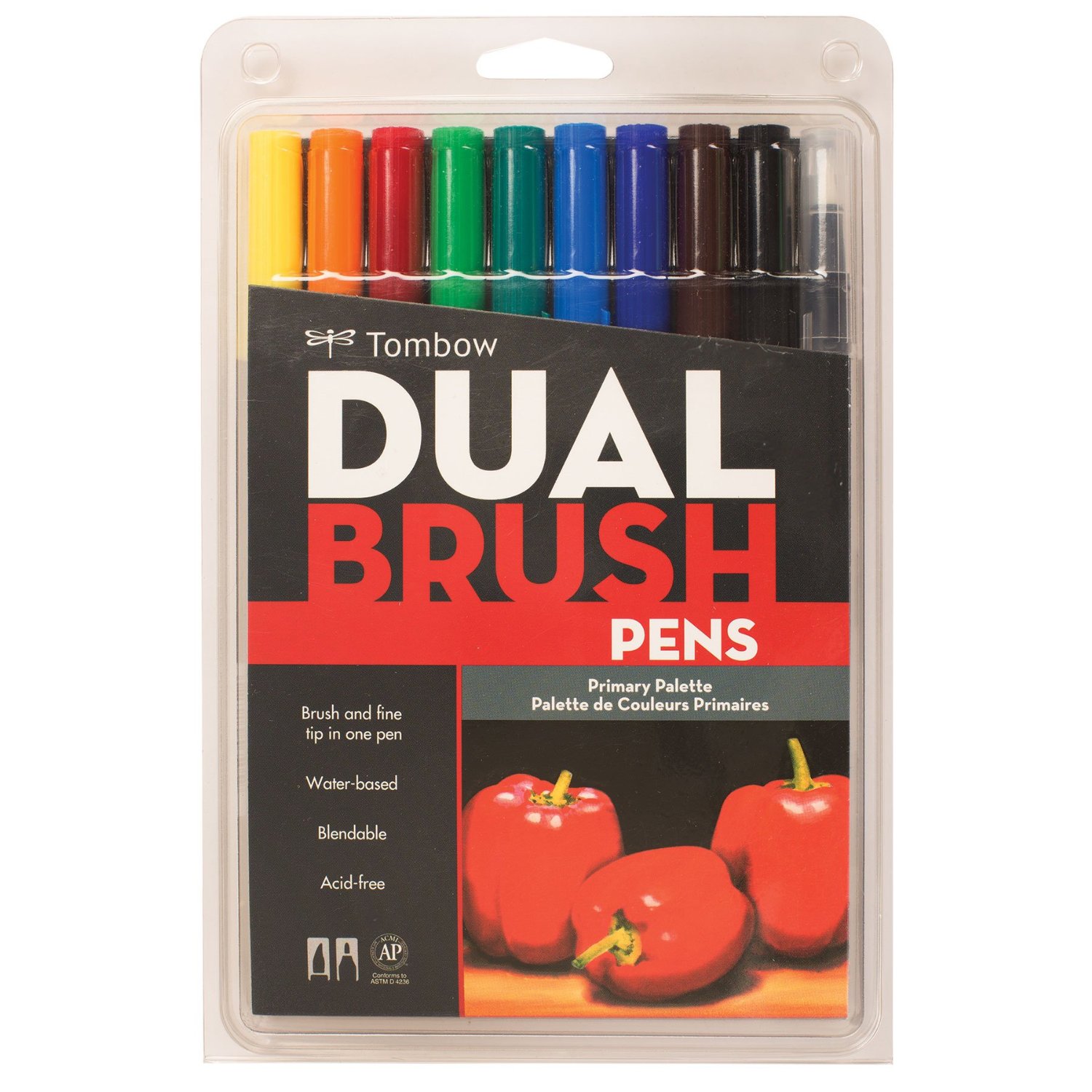 Who doesn't reminisce about playing with markers as a kid? Tombow Dual Brush Pen Art Markers are great brush markers for doodling.
These markers feature flexible nylon fiber brush tips that are great for super thick lines and shading. If thick brush pens don't tickle your fancy, surprise!
There's a fine tip on the opposite side of each pen for thinner consistent lines.
The ink in these markers is water soluble and blendable. This set also includes a blender pen for smooth shading.
In addition to be a great doodling or fine art marker, these pens are recommended for stamping, lettering, and journaling.
The ink is acid-free and non-toxic, making it a great set to use with children. You get a nifty little storage pouch with these as well.
If you're a tattoo artist, this writer recommends using these pens for practicing flash art as an alternative to expensive Prismacolor and Copic markers if you're on a budget.
Customer Reviews
Lots of colors and variation in this set
Markers last for a very long time, even with a lot of use
Vibrant and dynamic colors and inks
Blend well, even with heavier layers of ink
Expensive for beginners but well worth the price
Versatile uses for many kinds of drawing and doodling
Check Latest Amazon Price
---
Best Budget Pens for Doodling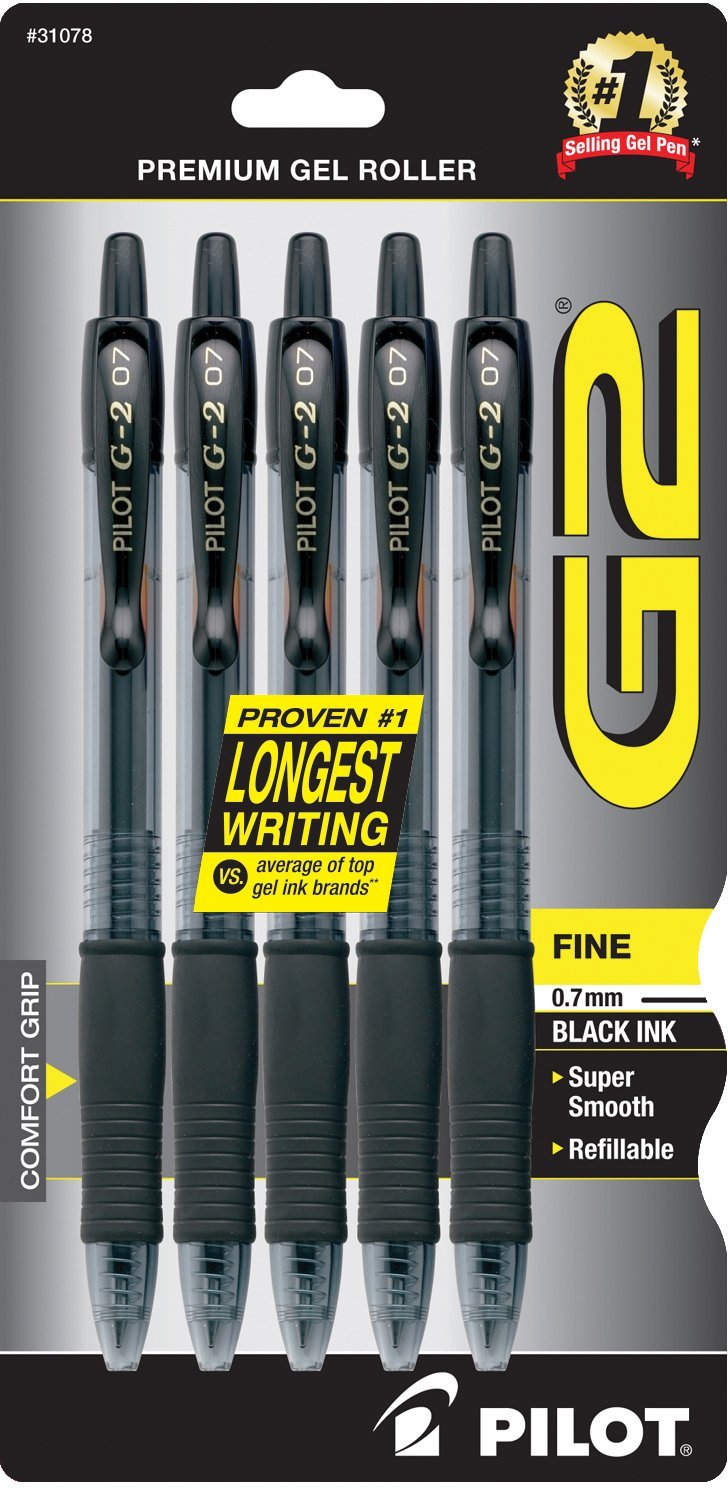 Any writers out there? If you are, chances are you've enjoyed the superior quality and dependability of the Pilot pen. These Fine Point Pilot G2 Retractable Premium Gel Ink Roller Ball Pens have been a favorite of mine for years.
The G2 line of pens is boasted as writing longer than other gel ink pens. This goes for doodling as well, of course!
I mentioned comfort earlier, and you will not find a more comfortable pen to write or doodle with. The rubber grip on the barrel is comfy and adds some much-needed grip if you get intense with your doodles.
The gel ink is smooth, smudge-free, and comes in several colors. Let's not forget how economical these are either– instead of buying all new pens, you can purchase refill ink instead.
If you don't want to be limited by the 0.7mm size of these ballpoint pens, you're in luck. They also come in Ultra Fine 0.38mm, Extra Fine 0.5mm, and Bold 1.0mm.
Customer Reviews
Great for editorial tasks, using multiple ink colors
Extremely smooth movement and ink flow
Ink is consistent, dark and concise
One of the best-feeling pens because of comfort grip
Check Latest Amazon Price
---
Best Colored Gel Pens for Doodling

Remember the gel pen craze from the 90's to the early 2000's? Everybody in school had a set of them and they were just so satisfying to use, especially for doodling.
Sakura makes the list again with their 10-Piece Gelly Roll Bold Point Gel Ink Pen Set. This set of pens come in 10 bold, beautiful colors that include lemon yellow, orange, red, hot pink, lime green, fuchsia, mauve, violet, teal, and blue.
The matte ink that these pens feature is archival quality and absolutely fantastic and fun for doodling.
Fluorescent and smear-resistant, these pens are also waterproof and bleed-proof. In addition to being great for white paper, these can also be used on black paper for cool glowy effects as well.
The ballpoint tips create 0.5mm lines and really are great and consistent. In my experience I've never had a Sakura gel pen cake or lock up on me.
Customer Reviews
Great quality gel pens, even after many hours of use
Nice performance and ink flow
Pen is airtight and keeps ink fresh for a while
Great for all types of drawing and coloring
Perfect for smooth lines and soft details
Check Latest Amazon Price
---
Do you recommend a doodling pen that we didn't review?
Let us know! You can send us a message or suggestion here, or check out the other arts and crafts reviews we've put up recently: