Transferring beautiful pictures onto things is an incredibly fun, creative endeavor, and when you want something higher quality than that iron on sheet, you have to look into other methods for doing so. One of the best ways I found is through the use of a heat transfer printer.
Although there are all types of laser and inkjet printers on the market, I found that my home office printer simply doesn't cut it when it comes to printing and cutting any material that's thicker than a heavyweight resume paper.
What are the best heat transfer printers?
Below are the ideal heat transfer printers for most users based on overall quality, user experience and price point. Each of these delivers top-quality performance depending on your needs and the complexity of your heat transfer projects.
Editor's Choice
Epson Artisan 1430 Inkjet Printer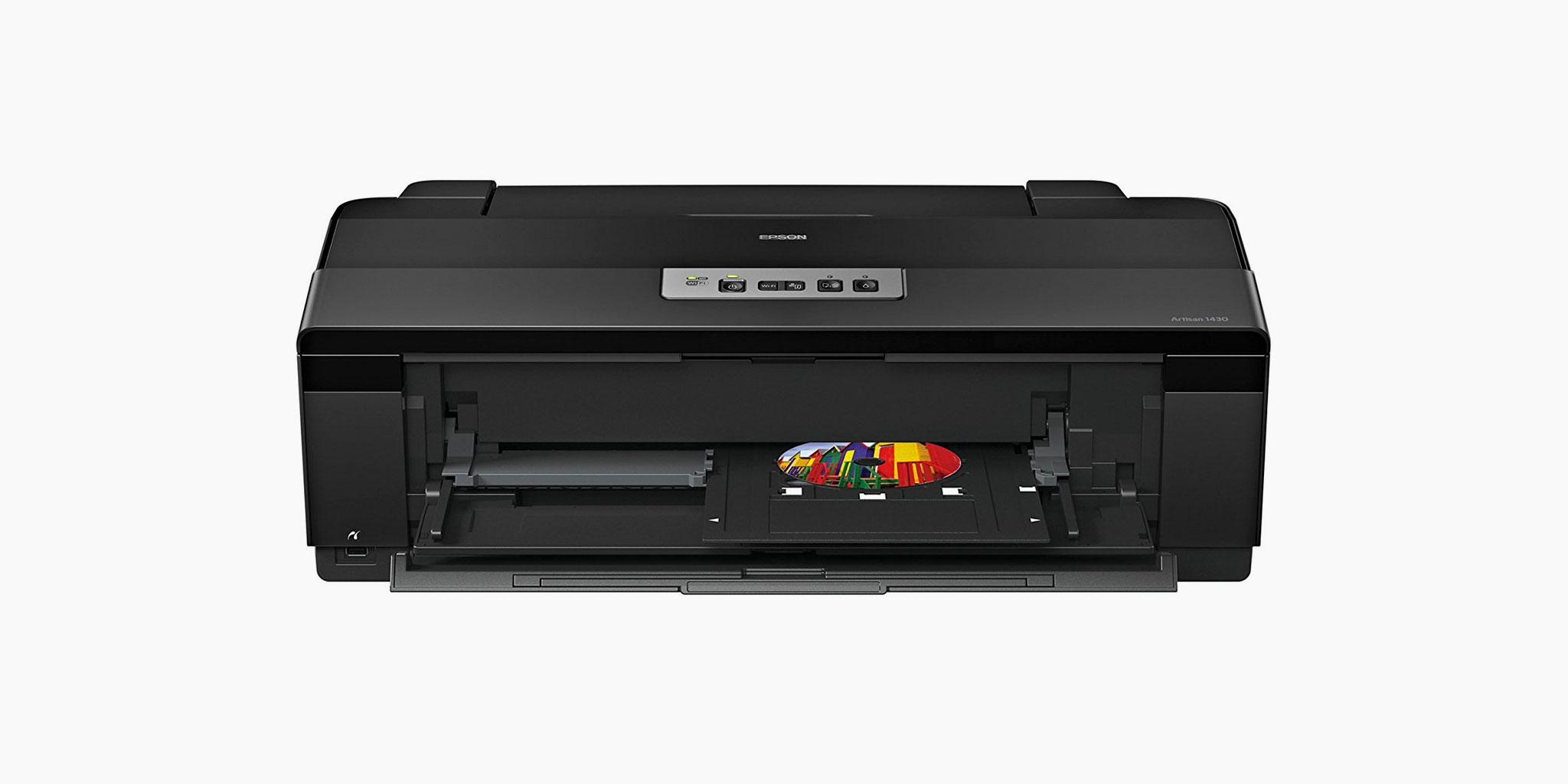 Epson is known for their color quality, and the Artisan 1430 is one of the company's crowning achievements when it comes to professional results for the average consumer.
It offers high-definition, vibrant photo printing that works for standard sizes, all the way up to wide-format pictures (13″ x 19″). Ease of use is stellar: Epson® Connect offers wireless and mobile printing from a number of devices, and connecting to your network is a breeze.
For most users, we found that the best heat transfer printers are those that have a short learning curve, offer long-term affordability and create printed works that are built to last. The Artisan 1430 checks each of those and more, and there's a reason it's become one of the best-selling printers for heat transfer enthusiasts at home.
Vibrant, Convenient Ink Performance
With inkjet technology and 6-color high-definition Claria ink, the Artisan 1430's prints are better quality than you'd ever expect for an at-home photo printer, and the high resolution (5760 x 1440 dpi) produces beautiful, grain-free photos every time.
Epson claims that this printer will make "gallery-worthy" prints that are resistant to smudging, scratches, water and fading. In tests, this proved true: the color was difficult to smudge and time after time the printer created vibrant, durable prints that kept up with users.
"the inks live up to their claim – even on gloss paper, water didn't cause a problem…"
"A quick test of this smudge and water resistance showed that the inks live up to their claim – even on gloss paper, water didn't cause a problem, and it took quite a bit more than normal pressure to see any smudging issues," says Jon Canfield at Photography BLOG.
The Claria ink system is to thank for that: its cartridge is actually six individual cartridges that deliver high-impact colors, and when one color is out, you only need to replace that single color (rather than the whole cartridge).
The black cartridge prints approximately 470 pages and the colors last for about 810 pages, though this depends on the types of images printed.
Prints made with the Artisan 1430 supposedly last up to four times longer than photo lab prints, which means your heat transfer prints should hold up over the long run. The prints, especially when done on specialty paper, are true to color and offer accurate tones, shadows and highlights.
The Artisan 1430, for its size and performance, prints relatively quickly. A 4″ x 6″ photo prints in as little as 46 seconds, and larger prints like 8″ x 10″ are done in less than two minutes.
Photo Print Quality
"Epson's Artisan 1430 is a perfect step-up printer for users who do a lot of photographic printing and feel restricted by affordable home printers limited to 8.5 x 11 inch or 11 x 17 inch output," says Digital Trends' Ted Needleman.
The Artisan 1430 gives the average heat transfer user the next level of performance without breaking the bank. It's one of the best selling inkjet printers on Amazon and is routinely mentioned by users and printing companies as one of the most reliable heat transfer printers on the market.
Optional auto-correct features ensure your photo prints come out looking perfect, and smooth, gradual colors offer smooth images and lines that aren't typical of consumer-level printers. Many users say that the printer could – and is – used by professional printers for various products. One Amazon reviewer noted that the Artisan 1430 was used for thousands of the company's heat transfer prints without issue.
Why it's the Best
The Artisan 1430 offers easy use, high-definition performance and all sorts of features while still being underpriced. It rivals many professional printers in terms of versatility and photo printing capabilities, and the average consumer will find that it's ideal for heat transfer projects of all shapes and sizes.
The wide format and wireless printing also make it incredibly easy to access right out of the box. To learn more about the Artisan 1430's features, you can view the user manual here.
---
Runner Up
Epson WorkForce WF-7110 Inkjet Printer
Wireless, and in the highest of quality, this printer is able to take on some of the bigger projects that you want to print out. With every type of material imaginable, you can create some pretty cool projects using the Epson WorkForce WF-7110.
Each print is done expertly fast, and provides the user with a sleek, smooth finish when it comes to finishing the outside of any product out there.
You can pop it inside the printer, and be able to have it come out with that finished look. Bake and go for some products.
The quality of the prints is of the highest level. You can take a picture perfect look and make sure to mirror the image (and the quality) onto any material or other items that you'd like.
Some of the other printers might provide a hazy picture, but the Epson WorkForce WF-7110 will not let you down with each of the prints that you make.
Customer Feedback
Excellent print quality and clarity
Highest quality prints out of many inkjet printers owned
Large size, but worth the space to get the additional performance
Excellent overall craftsmanship and product build
---
Best Budget Option
Epson Stylus C88+ Color Inkjet Printer
When you need a bundle of products, then make sure to check out the Epson C88+ Bundled with Hotzone360 Empty Ciss for Sublimation or Pigment Ink Use that provides high quality printing, for a fraction of the cost of some of the other machines on the market.
With a high quality, easy way to do heat transfers on a variety of products, including paper and clothing, you can create a wide assortment of items with whatever prints you choose to design on your own, or any generic ones that you find to print out.
It is also easy to set up, and not overly complicated like some of the bigger machines. Additionally, some of the products that you use with the machine will need to be baked again to provide a more vibrant overlay and finish on the outside.
Customer Feedback
Many extremely satisfied users
Color may look faded on paper, but really comes out once heat is applied
Recommend using YouTube videos to learn best techniques
Does a better job than more expensive printers used in the past
Ideal for sublimation printing inks and projects
---
Best "Do-it-All" Option
Silhouette Cameo Heat Transfer Starter Kit
With this bundle for the Silhouette Cameo Heat Transfer Starter Kit Bundle, you do not have to worry about not being able to get more out of the prints that you make. Not only that, but you don't have to run out and buy extra stuff for it.
The touch screen control allows you to stay in control during the entire process, which is awesome when you're new to the whole heat transfer thing, and the included instructions are super easy to read so you can get started right away.
You can print on a wide range of materials, so you're able to print just about anything that your heart desires in the process.
Become creative, and use the included membership to the studios that they have, or use your own program. The options for creativity with this machine are virtually endless.
Customer Feedback
Excellent performance even after a lot of use
Variety of projects and printing jobs is impressive
Great with vinyl and other materials
User-friendly interface and design software
---
US Stock 3D Sublimation Vacuum Heat Press Machine
This US Stock 3D Sublimation Vacuum Heat Press Machine provides the right sleek look and feel that you're after when it comes to using an easy to set up, ready to go machine that can provide high quality prints on many different types of mediums.
Use their software for many designs that they have pre-made or that you can make on your own to put on whatever you'd like such as mugs, t-shirts and so on.
There are many to choose from, depending on what you want to make and how creative you'd like to be with the machine.
The set up is easy, and it comes with an easy to follow guidebook that allows you to go through each of the steps with ease, so you do not have to wait to start creating some of the best things out there.
It is not huge, and you can easily sit it on top of the table whenever you want to use it. The refills are affordable when you want to continue the printing fun, which is always ideal.
Customer Feedback
Produces professional-grade products and printed materials
Installation is extremely easy and convenient
Great for sublimation printing
Wide variety of products can be made using printer
Long-lasting product parts and materials
---
What's Next?
In addition to this, you're also able to check out some of the printer sets that can get you set up, which is always a good idea. Especially if you're like me and had nothing to get started with, and had no idea what exactly was needed – that's why we rounded up the best printers for heat transfers for today's average arts and crafts enthusiast.
I definitely recommend some of these products for those of you that want to try out heat transfers on many different things, while also being able to make the most of the pictures. The pictures last so much longer through the use of the sublimation printer, and not an iron. The best sublimation printers make it easy to transfer from one material to another in a way that's designed to hold up for the long-term.
Be creative, get out there and see what these printers can do for you and what you can make when you use them.
[Read more: finding the best heat transfer vinyl for Silhouette Cameo]
What to Look for in Quality Heat Transfer Printers
The best printer for heat transfer paper is generally the one that's designed specifically for these types of projects. As we mentioned, you can't always use just any old desktop printer – you'll need something designed for this type of use.
If you're looking for the best printer for t-shirt printing, for example, you'll want something that can professionally print (and later cut) material, such as vinyl, that will be able to hold up well enough to be washed and worn for a long time.
Depending on the products you're looking to make, you'll want to find a printer that can consistently keep up with your quality demands.
High quality ink transfer: The ink, once transferred, should be bright and not fade with time. This is how you know you've chosen a great machine to do all of the heat transfer printing that you want, and that is not going to let you down.
What products can you print on: Some printers will only print on one medium, and you want to choose printers that are versatile and able to print on everything when you throw them in the machine.
Cost and availability of refills: The refills for many of the machines can become expensive, especially if you do a lot of printing, so you need to make sure that you have a machine that provides affordable refills.
Durability: Of course, since this is a machine, you need to make sure that it is going to last a while. This is something that you need to look into when it comes to finding out what others thought of it. You do not want to spend a lot, and then run out and buy something even more expensive.
Heat Transfer Resources and Guides
The best part about printing your own heat transfer projects is that you're only really limited by your imagination. For project ideas, inspiration and more, check out the heat transfer projects on Pinterest, or check out this beginner's guide to heat transfers from The Pinning Mama.
Do you recommend a printer that we didn't review?
If so, we'd love to hear from you. You can get in touch with us here, or check out the other arts and crafts reviews we've put up recently, including our favorite yarn ball winders, airbrush compressors and other DIY gear.