Looking for new wood burning project ideas?
Wildlife designs are some of the most popular amongst pyrography artists, with deer images specifically beloved for their intricacy and majesty. However, even beginner wood burning artists can create beautiful wildlife images with the help of printable pattern templates.
In this article, we've put together a list of our favorite deer wood burning patterns that animal and nature lovers can make at home. The patterns are simple but elegant, so whether you're an old hand at pyrography or you're just getting started, these designs are perfect for your next project.
1. This Deer Head Silhouette Stencil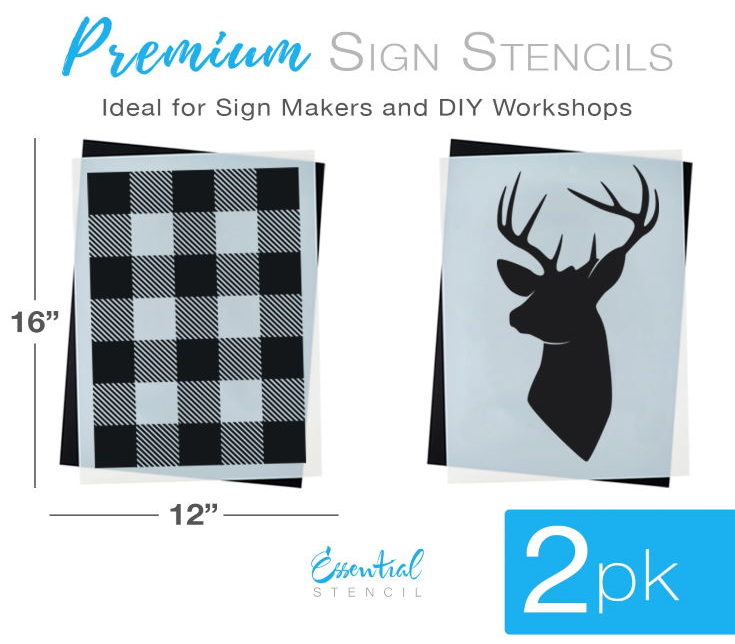 Silhouette stencils are some of the easiest wood burning patterns to work with. All you have to do is trace the stencil onto the wood and then fill in the body using your pyrography pen. This is a great project for beginners because it doesn't require any shading, cross-hatching, or gradation techniques. Use a light wood like cedar or cherry for a bolder look.
Available on Etsy
2. DIY Christmas Deer Stencil
You can also make your own stencil from any printable vector image with clean and well-defined lines. This reindeer silhouette is the perfect pattern for any Christmas pyrography project or holiday gift. You can even swap out the letters to turn the wood carving into a DIY Birthday, Mother's Day, or Father's Day present.
3. This Wild Deer Silhouette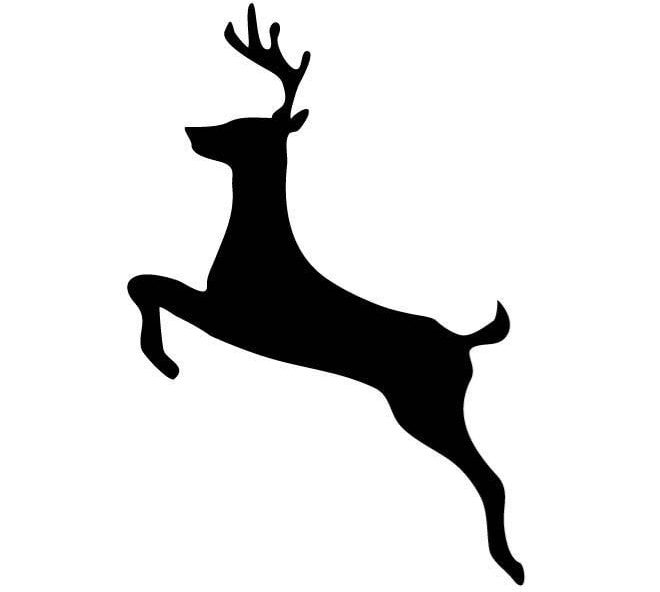 Another fantastic option for wildlife lovers is this wild deer silhouette. This pattern features a prancing deer, which can serve as the focal point for rustic cabin signs or be scaled down and used as a motif on smaller projects like hand-carved wooden boxes and chests. You can also combine this silhouette with other nature images like trees and flowers.
4. Deer Hunter Logo Emblem
If you love hunting, then this deer hunter logo emblem is the perfect pattern for your next pyrography project. The logo looks great on a variety of different woods and can be used to make a personalized sign for your woodshed, firearm cabinet, or a rustic cabin. You can personalize the design further by adding a small message or the words, "gone hunting."
5. Stylized Deer Logo
If you're looking for a deer wood-burning design to use as a logo for your small eco-friendly or nature-inspired business, then this stylized deer pattern is a perfect choice. The body is made up of curved shapes that are elegant and add interest to an otherwise simple silhouette. Add text at the bottom to complete the logo and give the design a professional finish.
6. Freehand Wild Deer Art
The wild deer pattern is great for experienced drawers and anyone looking for a more artistic design. Although you can print the image and trace it directly, this design lends itself to a more freehand approach. Follow the straight lines for the deer head and then let your creativity flow as you draw the antlers, adding forks and tines wherever you see fit.
7. A Reindeer Decorated With Ornaments
If you're looking for a wood carving gift to give your loved ones during the holidays, then this Christmas themed pattern is a beautiful design that would look great on small trinket boxes or even wooden tree ornaments. You can even paint the reindeer's ornaments to give the piece a little pop of color.
8. This Realistic Deer Head
More advanced wood-burning artists can try their hand at this realistic deer head pattern. Although the image itself doesn't require too many advanced techniques, you can give it more personality by adding a gradient along the deer's neck or a soft fur texture. This is another great pattern for background work or heat softened edges.
9. A Traditional Coat of Arms
This coat of arms pattern is the perfect project for new homeowners and families. The design itself is fairly straightforward, making it suitable for both beginners and experienced crafters, and there are lots of ways to personalize it. Add different colored squares, a family motto, or an alternative shield design for a cherished memento that will last for generations to come.
10. Free as a Deer Pattern
If you love using inspirational quotes for posters and home decor, then why not try making your own motivational decor piece out of wood! This deer head silhouette features the internal message, "Be Free." If you're into graphic design, you can also play around with the letters to display any inspirational message you like.
11. A Striking Stag
This buck is standing tall on its hind legs, ready to strike with its front hooves. If you're looking for something a little more bold and powerful, then this pyrography pattern is the perfect option for your next DIY project. The stag is an eye-catching animal subject that captures the dynamism of nature and is sure to look good on any wooden surface.
Conclusion
Deer are the perfect animal subject for a variety of wood carving wildlife scenes. Whether you're a newcomer to the world of pyrography or an experienced artist looking for new project ideas, these wood burning patterns are a great way to celebrate nature and practice creative techniques.
What did you think of this list? Leave a note in the comments and be sure to share this article with any pyrography artists or animal lovers!