When I started airsoft I was just happy to hit a tin can off my back porch while standing still during my targeting sessions, but after my first couple of matches, it became very clear to me that the stock scope on my rifle just wasn't going to cut it. Not only could I not get those little bb's to hit my opponents regularly, but I lacked confidence in my sights which really took from the whole experience.
That's when I started my search for quality airsoft scopes. Airsoft is a fun game when played right, but it's a whole lot more fun for the folks that know how to aim consistently than it is for the guys that plink away missing their targets 90 percent of the time.
I started taking a look at the different scopes out there today, some were meant specifically for airsoft rifles, and others were designed for other guns but worked quite well. I put together my research and experiences into a compact guide to help with identifying the very best airsoft scopes. So if you're sick and tired of getting destroyed by your sharpshooter opponents that land shot after shot while you struggle to get bullets to travel the right way, you should at least consider picking up a higher quality scope to improve your results, trust me it helps!
Quick Comparisons of the 4 Best Airsoft Scopes for Beginners and Serious Players
IMAGE
MODEL
FEATURES

Soft Air Swiss Arms 4x40 Scope

Adjustable for wide and elevation

Includes lens caps and rings

Product Dimensions: 15.2 x 1.9 x 5.2 inches

View Product

IRON JIA's 3-10x42 Tactical Rifle Scope

Red dot sight for ar-15

Integrated reversible mount

High grade optical lens

View Product

Pinty Holographic Reflex Laser Red Green Dot Sight Scope

Solid aluminum alloy construction

Fits standard 20mm Picatinny or Weaver rails

Multi-coated lens sealed with Nitrogen

View Product
What to Look for in Airsoft Scopes
Accuracy: The whole point of buying a scope is to boost your accuracy unless you're one of those guys that just wants to look cool. That's why leading scopes need to sight well and stay sighted over time. IF you can't regularly land your shots using the scope, it isn't worth the investment.
Price: C'mon its airsoft, not a hunting or self-protection rifle, you don't want to spend a fortune on a scope for a short-range gun like that. That's exactly why the price is a real issue when it comes to making a final decision. If the scope costs as much as the rifle did it probably isn't worth the money in the end.
Ease of Use: Some scopes mount to Picatinny rails, others to Weaver, and some will mount up to both. It's important that the scope you get is simple to use and something that can be put in place quickly. Otherwise, you'll waste a bunch of time setting stuff up when you could be blasting away at a target and improving your aim.
Weight: The last thing you want is a scope that adds five pounds to the top of your lightweight rifle. The more weight you add the slower your aim will become. That's why each review considers the weight of the scope and how it makes a difference.
The 4 Best Airsoft Scopes You Should Have
1. Soft Air Swiss Arms 4×40 Scope

The Soft Air Swiss Arms 4×40 scope is a good little tool that will really straighten up your aim. It's designed to mount on Picatinny rails and does so with ease. Some customers complain of the rings is a bit small and fragile, but they are simple to replace if desired.
The product comes with a comfortable eye relief that's around 2.5" long and at this price, this scope is a true bargain that's worth slipping onto a rifle.
Enjoy much more with this scope when it comes to easily attach it to your gun and being able to clearly see through it. Be able to be the one to win the game with the right sight. Crystal clear quality, excellent adjusters, and great sight overall.
Customer Feedback
Decent scope for the price
Happy with the scope
Great scope
Built solid and can take a beating
Check The Price
2. IRON JIA's 3-10×42 Tactical Rifle Scope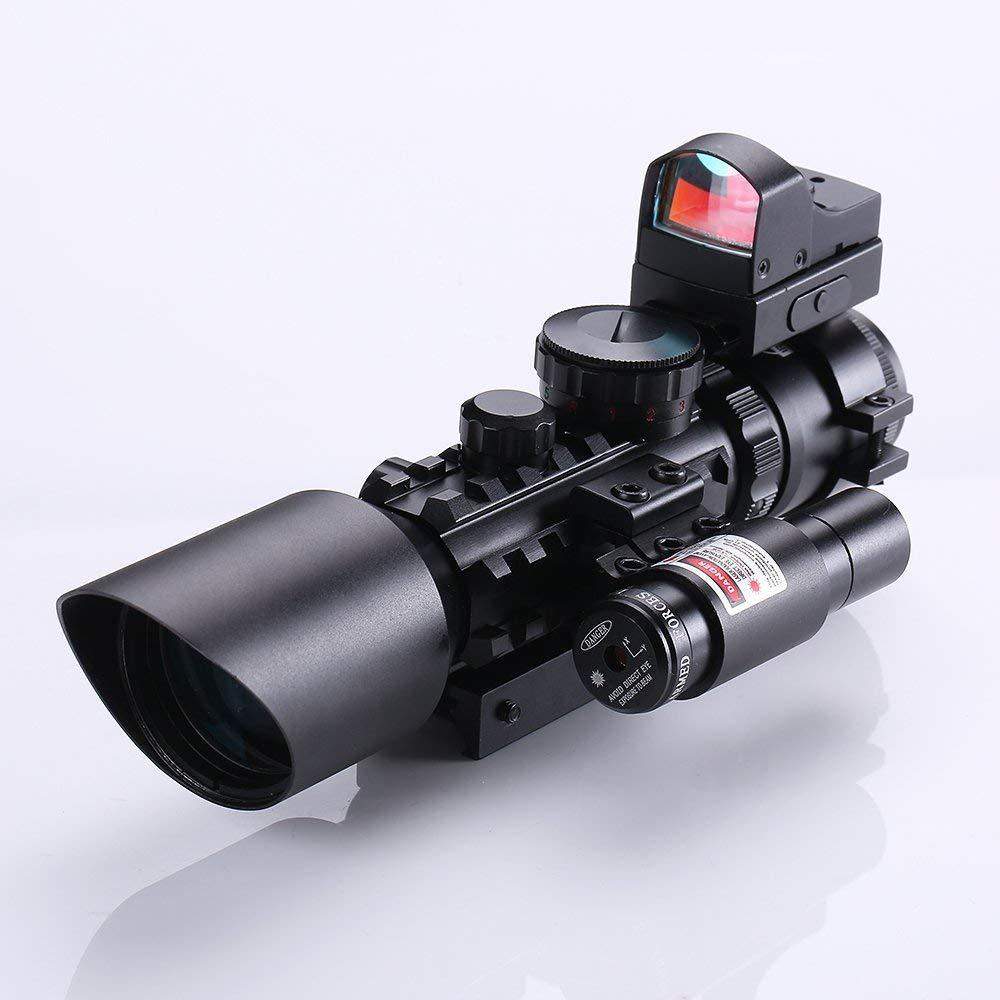 While The Iron JIA scope system is one of the most expensive that I considered, it's also one of the most flexible and useful overall. It isn't just a basic sight, but a standard tactical scope, a red dot sight, and a laser sight all in one.
You can mount these accessories up to it seamlessly and it will work with both Picatinny and Weaver rails depending on what your rifle comes equipped with.
I never thought that I would have to worry about not finding a high-quality scope without spending thousands, but was able to find this great piece. I couldn't have been happier with the outcome, just like so many other customers.
If you're looking for a high-quality scope, then this one might be the one you're looking for.
Customer Feedback
No issues with the scope
Recommend the scope
Great purchase
Best tactical scope in the world
Really great scope
Easy to use
Really nice quality
Check The Price
3. IFLYING LK-S04RG Tactical Red and Green Dot Reflex Sight Scope
As the second cheapest scope that I reviewed, the IFLYING LK-S04RG Tactical Reflex Sight is surprisingly capable. It comes with a clear lens that you look through and offers four different holographic sights, making it easy to switch between dots, crosshairs, and circle patterns while playing.
The site doesn't offer any zoom, but that's not much of an issue with airsoft where ranges over 100 yards aren't common.
It is also one of the easiest scopes to attach to your rifle or gun, making it one of the best purchases that you can use when out in the field. Play with friends, play with family or just check out the scope while doing target practice.
You'll be a sharpshooter in no time.
Customer Feedback
Met and exceeded expectations
Surprised with such high quality
All steel made
Happy with the purchase
Gorgeous scope
Reasonable weight
Check The Price
4. Pinty Holographic Reflex Laser Red Green Dot Sight Scope
When a simple red dot is all you need, the Pinty Holographic Reflex Laser Green Dot Sight Scope is an excellent value. It offers good visibility in low light conditions and can be used at a full range without issues.
This sight slides onto any gun with a Weaver Rail and it comes with both elevation and windage adjustments that aren't very useful on airsoft rifles.
I would not use this on anything stronger than an airsoft gun, but it provides a clear sight straight to the target and you can hit it easily. Enjoy attaching the scope to the rifle with ease right before you head out in the field.
Customer Feedback
Excellent optic
Works like a beauty
No complaints with the scope
Works great on airsoft guns
Great quality for the price
Holds zero well
Solid construction
Check The Price
More Reviews